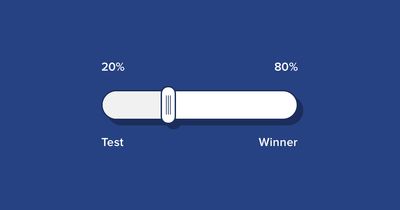 Automated Email A/B testing
When A/B testing an email newsletter you can now let Vero automatically pick and send the winning email to the remaining recipients. Vero makes A/B testing easy to manage while providing the level of accuracy required to ensure your tests are robust so that you can confidently optimize the performance of your campaigns.
Winning metrics that matter
You're in control of the parameters used for your A/B tests. Define the time to wait before the winning variance is selected, the percentage of customers to use in the test and the metric to determine the winner.
You can choose from the following metrics to determine which variation wins:
Deliveries
Opens
Clicks
Unsubscribes (the variant with more unsubscribes will be discarded)
Conversions (the number of users that took an action after receiving the campaign, such as a purchase).
You can select from two options to determine the winner:
Biggest number
In this scenario, Vero will select the email with the biggest number of the chosen metric as the winner (with exception of unsubscribes, where the variant with the biggest number will be discarded).
Statistical significance
Statistical significance brings mathematical accuracy to your testing. If one of your email variations observes an improvement on the control email with a confidence level of 95%, it will be selected as the winning email and sent to the remaining audience. If no statistically significant difference is observed between the email variations, Vero will send the control email to the remaining audience.
Visit our Help Centre for full details on how to use Vero's Automated testing.
---
Want to send more personalized mobile and email messages to your users?
Check out Vero, customer engagement software designed for product marketers. Message your users based on what they do (or don't do) in your product.
Learn more about Vero and consider signing up for a free trial. No credit card required.