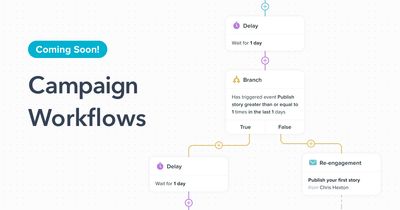 One of the big projects Vero has planned this year is the release of our new campaign workflows for email communications and mobile push notifications. This new feature will give you a more visual way to design and manage your customer journeys. We've been delighted with the initial rounds of feedback and we're getting ready to launch in the next few weeks, so we thought you might like a sneak preview.
Our approach
At Vero, we know that team collaboration and visibility of your data is key to designing and successfully implementing personalized email campaigns. While Vero's current email campaign tools are very powerful, the current linear campaign builder doesn't offer complete visibility of an email journey in one view.
We spent time speaking to both our new and long-time customers to understand the areas where we can improve how you can build and manage campaigns:
It is sometimes hard to have confidence in where customers are in their email journey. This fear can sometimes hold users back from further developing a workflow and adding more sophisticated and personalized email campaigns.
A number of Vero customers have tens, or in some cases, hundreds of automated email campaigns. Collaboration at scale can be tough – people think differently and it can be hard for one Vero user to "follow the logic" of campaigns set up by their teammate, which can often make updating or changing them daunting.
Lack of branching leads to duplication. Vero's current interface enables very detailed functionality, but it's linear nature often means duplicating a whole workflow in order to adjust one or a few elements of the workflow. Introducing ways to achieve personalization without duplication is a critical goal of Vero's new campaign workflows.
New campaign workflow highlights
Our key goal in designing this new campaign workflow was to make it as easy as possible for anyone, on any team, to collaborate on customer messages and to have confidence in what customers will receive. We're delighted to share this preview with you today.
This new visual approach to building campaigns offers you a clean and clear view of all the logic, details and content that make-up highly engaging campaigns. Here are a few highlights:
Color-coded steps help you see what's happening at a glance and make it easy to identify different aspects of your workflow.
The basic configuration of each step is immediately visible on the canvas, and the sidebar gives you detailed access to all of the configuration options for each, providing clarity of functionality when designing and amending the details of each step.
Zooming and panning features mean you can easily view both simple and complex (long!) messaging workflows. Whether it's two nodes or 200, our shortcut buttons and keys make it easy to fly around your canvas.
Together, these features will give you, and your team, the visibility and clarity to move quickly, and confidently develop and improve your customer journeys.
Modular and extensible
Critical to the longevity of this feature is its modularity. The release of visual campaign workflows opens the door to possibilities that we could previously only imagine. We've architected the new workflow manager with the future in mind. Not only will the first version improve on our current automation engine by including new functions such as branching, in the future, we'll be releasing several new nodes too such as push notifications – we'll be sharing more on that soon.
One of the major improvements that campaign workflows give over the current automated campaign interface in Vero is flexibility.
The position of each step in a campaign is no longer restricted. Steps can be moved around, giving you full control over the order of logic, delays, and emails. These steps can also be moved during a live campaign so you can adjust your campaign as you learn and gain insights into your customers' behavior. We are confident this feature will provide a level of flexibility that will make creating and managing journeys much faster and simpler.
Branching
One of the best new features included in this release is the ability to add branching steps to a workflow. By adding logic that results in the customer moving down either a true or false path means you can tailor your customer journeys even further.
We think managing your campaign logic like this will make planning and implementing customer journeys easier than ever. Not only does it mean you can skip the pen and paper, and plan out your campaigns directly in Vero, it also means you can combine multiple campaigns into a single workflow so you and your team can view more complex journeys on one canvas.
Making changes
Once you've got a series of customer emails up and running, you'll often want to come back and adjustments to optimize the content, timing and other variables.
Campaign workflows handle changes elegantly, ensuring that any design changes are not activated until you officially push them live. This lets you change email content or the entire node structure without worrying about affecting what your customers see – until you're happy with the changes.
Clarity at every step
By introducing a canvas for designing campaigns you can create more sophisticated, and longer email sequences with many branches. Setting a "goal" for the workflow not only offers clarity around when customers are or are not in a workflow, it drives conversion tracking across the workflow as a whole – aggregating conversions across the individual messages and reporting the success of the workflow in one place.
We've also ensured that you can easily reference workflows when designing segments or other workflows, using the condition "Has entered workflow". This gives you extra power for all of your detailed campaign design needs.
---
A couple of the features I've previewed today are still in the works, but we're nearly ready to show you what we've built. We'll start to open up our new visual campaign workflows to a small number of beta customers in the coming weeks. If you're interested in being part of the beta group, send us an email support@getvero.com.
We're really excited to release this feature, and we hope you are too!
---
Want to send more personalized mobile and email messages to your users?
Check out Vero, customer engagement software designed for product marketers. Message your users based on what they do (or don't do) in your product.
Learn more about Vero and consider signing up for a free trial. No credit card required.