How to Collect Customer Feedback with Email
One thing we often hear is, "How can I get customer feedback?" Today, we have a really good answer to that question.
Given all the data we have at our fingertips these days, it feels wrong that we don't truly know our customers. But email is one of the best ways to change that. You can infer quite a bit from metrics like opens, clicks and page views, and leverage it as a platform for two-way communication. (Our parents called this "correspondence".)
Here are a few strategies – ranging from the old-fashioned to sophisticated – that will get you more customer feedback.
Just Ask
You knew we were going to mention surveys, but we've got a new twist on this old approach.
We love surveys because they provide direct answers to your questions. Instead of sifting through data looking for answers, you can use simple surveys to gather lots of insight at one time, in one place.
Dollar Shave Club is great at incorporating surveys. Every now and then, I receive an email from them with a simple question like this one:
Dollar Shave Club stands to score a lot of customer feedback from this email. They'll find out, for example, who's really interested in their company based on who opened the email. As they gather more responses, they'll learn more about product-market fit and get some insight on what products could be useful in the future. This data will also help with audience segmentation when it comes time to let people know about future products. If, for example, someone responds with "None of the above," then they know not to dilute that person's inbox with more information on the topic.
One-click surveys like such as this one are very easy to create with tools like ClickInsights. Here's how we would mimic Dollar Shave Club's survey using ClickInsights:
Simply create a new survey and add your questions. If you need ideas for questions, refer to ClickInsights' suggested topics.
Next, you have some options around recording the data. Because Vero is already integrated with ClickInsights, you can map survey answers directly to our Contact Profiles.
Once you've created your survey, ClickInsights provides an HTML embed code which you can use in a rich text or HTML email in Vero. These work nicely in HTML emails because they maintain the same CSS styles as the rest of the content.
Data from those clicks are tracked in Vero as user attributes which you can use to create segments and automate follow-up emails.
For example, Dollar Shave Club automatically sends a free sample to each customer depending on which link they clicked. Dollar Shave Club then automates an email to go out after the product has been delivered to customer, asking if they would like to buy the product.
This is exactly how behavioral email should work: super-targeted, timely messages with no guesswork.
Infer from Intent
When we send a newsletter, we measure intent by creating several segments:
Subscribers who did not open the newsletter
Customers who did open it
Non-customers who opened it
Non-customers who opened it AND viewed the pricing page within the last 30 days
We do this to collect better measurements but also so that we can send follow-up emails. Newsletters don't quite fall under "batch and blast" emailing, but they generally lead to similar abysmally low conversion rates. Segmenting people based on their engagement with a newsletter and measuring that against other data is a great way for us to get to know who is really on our list.
Need more color? Here's an example of a recent campaign we executed:
First, we publish a new post and sent an announcement to our entire list, letting them know that the post was up.
Next, we created at least three segments based on engagement with that email. Here's the segment of all subscribers that did not open the email:
… and here's one of all non-customers who did open it:
You get the idea – our segment builder really lets you dig in. But we've found the ones mentioned here to be the most effective for our newsletter campaigns.
Especially interesting to us are the non-customers who opened the email since they have opted-in to receive it and opened an email that is related to Vero's service. Their email looks something like this:
While we don't do this for every new blog post, we do make a point of employing the tactic if the content is related to our product or has actionable advice for customers. And as a bonus, the campaign results give us valuable feedback on the quality and relevance of the content.
Here's another example – this one is a follow-up email we sent to customers who opened a recent newsletter that yielded quite a few responses and constructive feedback: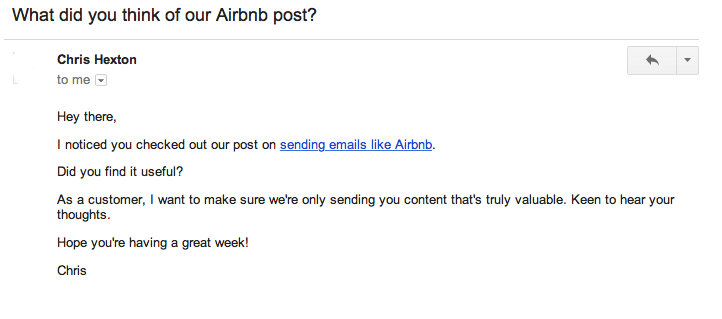 So, at it's core, the idea isn't that complicated: use the data you already have to get more valuable data. Often, your existing data aren't informative enough to make good decisions, but more rounded data are good enough to at least begin segmentation.
Make Conversation
Not all marketing strategies scale, and that's okay. We have a story about that.
We used to send new blog subscribers a series of emails about Vero. After a few months, we realized that we were trying to sell to people without knowing much about them. The campaign wasn't performing well since we did't have enough qualitative data to make it truly useful. Automation only works if the messaging is right, so we scrapped our 12-email campaign and replaced it with a single email designed to help us get more customer feedback.  (Read more about Learning vs. Selling here.)
Many people replied to that one email, and as a result we learned a ton about our readers. We struck up a conversation with many of them, directed them to helpful articles and asked more questions about their business. These types of conversation inevitably lead to relationships which are, after all, the foundation on which successful businesses are built.
Our process isn't scalable – but it sure is helpful. Once we have a better understanding of our readers' challenges and priorities, we may test a new campaign. For now, we're content to chat with as many people as possible to learn as much as we can.
Also Read: Our A/B Testing Guide
There are several other businesses I know of that see replies as a chance to learn about their customers. Here's an mail I received from Beegit co-founder JD Eaton after letting my free trial lapse:
The truth was that I didn't have a chance to really test the software. This email sparked a conversation that led to a product demo and then a sign up. That's right – asking our team for feedback resulted in Vero becoming a paying customer. (Beegit is the markdown collaboration tool that we use here.)
Another company that does this is Feedly, which sends almost the exact same email to every customer who cancels their "pro level" subscription. This is a situation where the vendor has nothing to lose and plenty to gain. Resist the urge to automate these emails too much or you'll lose the personal touch that inspires people to reply. It has to look, feel and act like correspondence – even if it's triggered.
This too led to a conversation. While I didn't renew my membership, their team was able to gather feedback to improve the product.
Pro Tip: In Vero, you can actually use responses to start and stop campaigns. Let's say, for example, you send a campaign that prompts users to schedule a product demo. When someone responds to an email, you can stop the campaign and route the request to the appropriate team member. This ensures no one receives irrelevant emails and makes it easy to build replies into your marketing.
How do you go about getting customer feedback? We'd love to hear your best strategy, so let us know in the comments!
---
Want to send more personalized mobile and email messages to your users?
Check out Vero, customer engagement software designed for product marketers. Message your users based on what they do (or don't do) in your product.
Learn more about Vero and consider signing up for a free trial. No credit card required.