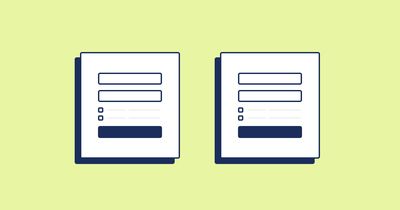 Double opt in vs. single opt in: Which one should you choose?
You've started building your email list and quickly arrive at a fork in the road. Single or double opt-in? They're two sign-up methods that yield very different results.
There's an ongoing debate on the superiority of either method across the web. While single opt-in seems to reign supreme as the more streamlined option, double opt-in generally wins when it comes to guaranteeing engagement from your subscribers. So which should you choose?
This article will define both single and double opt-in, dive into their pros and cons, walk through why double opt-in is important, and consider the key European laws surrounding email marketing.
By the end of this article, you'll be able to decide which sign-up method is best for your email marketing goals.
What is single opt-in?
Single opt-in (SOI) is when a user's email address is added to your list without an additional second step re-confirming that they've subscribed. It's what it sounds like – an opt-in method for new subscribers that only requires a single action.
Here's an example:
It's straightforward and gets the job done quickly.
What is a double opt-in email?
Double opt-in (DOI), otherwise known as a confirmed opt-in (COI), requires an extra step. Double opt-in is exactly what it sounds like, a subscription process that requires two steps.
For example, after a user signs up for your product or service and opts in to further communication, they're required to look out for a confirmation email and actively click a link inside.
Here's a quick walk through on what a double opt-in confirmation email typically looks like: The user is told to look out for a confirmation email in their inbox.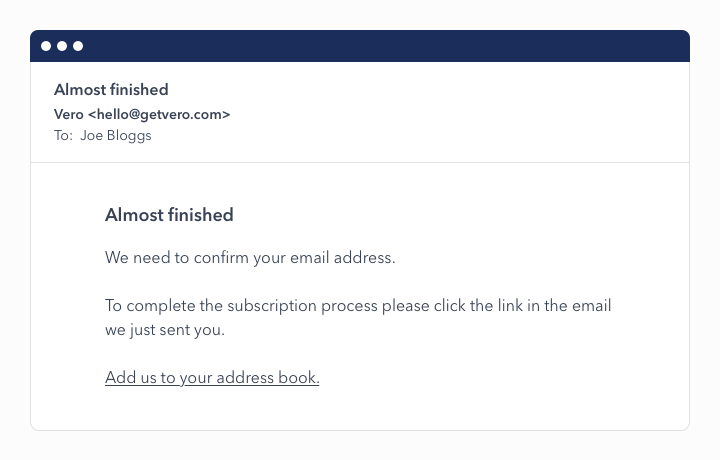 In that email, the user is typically asked to either click on a "confirm email" button or a link – completing the double opt-in process.
Single opt-in vs. double opt-in
For the love of single opt-in – Higher success rate
From a user experience point of view, processes are generally more user-friendly when there are less steps. A single opt-in only requires users to check a box – there is no real friction in this process.
As such, single opt-in is the easier way to get your messages in front of a larger audience.
In contrast, double opt-in increases the chances of potential subscribers dropping off by requiring an extra step.
Using our email example above, possible scenarios leading to drop off could be that the user either didn't understand your instructions directing them to the confirmation email or simply did not receive the email at all. According to Litmus, failure rates for double-opt in range from 20 – 40%. For email marketers looking to grow their lists, these failure rates might be concerning.
For the sake of double opt-in – Higher engagement
Even though the single opt-in method might produce a larger list, it may be a less engaged one.
One way to think of it is this: subscribers who were willing to jump through an extra hoop to get on your email list will be more responsive over the long term.
They're the ones that will most likely open your emails and click on the links within, which will boost your sender reputation and deliverability rates.
Beyond the above, double opt-in is also more effective at protecting email lists from bots and malicious signups.
When comparing single opt-in and double opt-in, it's easiest to think of the two as instant gratification and long-term payoff, respectively.
Why is double opt-in important?
While, at a glance, single opt-in appears to be an easier way to reel in subscribers, double opt-in is the slow and steady approach that will grow healthy and sustainable email lists.
Here are a few reasons why DOI is important:
Double opt-in is the confirmation that the person who entered their email address has a greater interest in engaging with you. It confirms that subscribers are willing to take the extra step to receive and engage with your emails.
Ultimately, your email marketing goal should be to create a highly-engaged list of subscribers that are interested in your product and services. So using double opt-in will ensure that you get your messages in front of your target audience.
Double opt-in is also an effective way to reduce spam complaints, which are detrimental to your sender reputation. This is because sometimes single opt-in subscribers may forget that they have opted to be on your email list, and they'll end up filing a spam complaint.
When to use single or double opt-in?
When making a decision on which opt-in method to use, it's helpful to first assess the needs of your business. Ask yourself:
What are your email marketing goals?
What kind of subscriber list are you hoping to build?
If you want to cast a wider net, get your message in front of a larger audience, and feel you can't afford to miss out on any short-term leads, you might want to choose single opt-in.
However, if you're dealing with a lot of hard bounces, spam complaints, and just overall low engagement with your subscriber list, then you might want to give double opt-in a try.
Is double opt-in required by EU privacy laws?
Disclaimer: We aren't lawyers, but we hope this is a good jump off point for your EU privacy efforts.
Complying with GDPR and other EU privacy laws requires you to thoroughly audit and think through your practices. So you might want to speak to your legal team or data protection officer before making any changes.
With that being said, it's good to know that messaging your customers in the EU is governed by the GDPR and the e-privacy directive (Directive 2002/58/EC).
And the key change the GDPR introduced was requiring businesses in the EU, or those who have subscribers based in the EU, is to "collect affirmative consent that is freely given, specific, and unambiguous."
This definition has raised the bar for "consent," and also applies to the e-privacy directive.
Ultimately, you need to be able to show that a user gave you consent to process their data and send them emails. It's important that:
The consent was ambiguous
You know when the consent occured
The customer had a clear understanding of what they agreed to
You should also be careful to review any local law requirements for email marketing. The e-privacy directive is an EU directive and not a regulation, which means that it is implemented by each EU member state into their local laws and will vary in each country.
For example, in Germany all email marketing requires double opt-in, you cannot rely on single opt-in because it is non-compliant under local law.
With the introduction of GDPR, consent under the e-privacy directive must meet the definition of consent under the GDPR.
What to do when obtaining consent during your subscription process:
1. If you're not using DOI, include a checkbox and make sure it is not pre-checked
Litmus points out that customers have to actively confirm their consent. Pre-checked boxes that leverage customer inaction just assume consent, which doesn't meet the GDPRs test for consent.
2. Don't require consent to receive marketing emails for access to a product or service
GDPR requires that consent is freely given and specific.
So you shouldn't make it so a subscriber can only receive a service upon agreeing to marketing emails. Any marketing consent you are obtaining should also not be bundled together.
For example, if someone wants to download something and has to enter in their email to do it, they should not have to consent to receiving marketing messages in order to obtain say a free ebook or whitepaper.
Also, if you are offering different types of emails, the consent for each type of marketing email should be provided for in separate tick boxes to make it easy to distinguish between. The subscriber should still be given an opportunity to opt-in or out of receiving your marketing messages.
Basically, there should never be a moment where your users feel they have no choice but to subscribe to your email newsletters.
3. Make it easy for users to withdraw consent at any time 
GDPR and other EU privacy laws also require that businesses make it as easy for users to withdraw consent at any time. And a big part of that is having a friendly "unsubscribe" process.
At the footer of all your marketing emails, there must be a very clear way for users to quickly unsubscribe from your marketing messages.
They should be able to find the "unsubscribe" link, and there shouldn't be more than one step after they click on it (eg. asking repeatedly if they're sure they want to unsubscribe).
It's worth knowing that an unfriendly unsubscribe process is one of the main reasons a user will file a spam complaint. Your sender reputation and deliverability rate is at risk here, so make it easy for users to come and go as they please.
Users should also be able to easily request the erasure of their personal data, or request to exercise any of their other rights under the GDPR. While it may be sad that they want to cut ties, it's well within their "right to be forgotten," and the other rights afforded to individuals under GDPR, and should be a user-friendly process as well.
The way forward
Consent has become a really important part of the conversation, not just in email marketing but in all areas of life. And with the new definition of consent from the GDPR requirements setting the bar for email marketers even higher, it's clear that a great subscriber experience not only should be, but needs to be, a top priority.
So instead of strong-arming users into our email lists, our focus should be on crafting email experiences that are helpful and human. And we should make opting in, or out – as easy as possible.
Already a Vero user? Learn how to set up double opt-in with our tutorial.
---
Want to send more personalized mobile and email messages to your users?
Check out Vero, customer engagement software designed for product marketers. Message your users based on what they do (or don't do) in your product.
Learn more about Vero and consider signing up for a free trial. No credit card required.