How long has "Update the onboarding emails" been on your to-do list?
Onboarding is the process of getting new users to "first value" as quickly as possible. The sooner customers use your product's best features, the sooner they'll see an ROI on their investment and the more likely they are to stay.
Onboarding is especially pertinent for businesses that offer free trials and freemium plans. If you can't show non-paying users why your product is worth paying for, don't expect them to hand over their credit card. A good onboarding sequence generates revenue.
It's high time you got this done.
Don't Overthink It
If you're struggling to setup your onboarding emails, you're likely overthinking it.
You might expect that a large company like Evernote has a sophisticated onboarding process, tons of behavioral triggers and a braintrust to manage the operation. In fact, just the opposite is true. Evernote sends some of the most basic (and useful) onboarding emails I've ever seen. They do blend some behavioral emails into the mix but for the most part, they simply deliver information that every user would find valuable.
I've written about Evernote's emails on this blog before but today we'll take a deeper dive. Evernote's onboarding emails are simple, straightforward and effective. Whether you're just getting started with onboarding or ready to upgrade your existing process, let this case study serve as a template and spark to get it done.
An Overview
The primary goal of every onboarding campaign is to get new users engaged quickly, but there are other business objectives at play too. In Evernote's case, they are looking to get free users to upgrade to their premium level. Of course, they can't do that without proving the value of the product first, so they lead with information and follow-up with calls to action.
Evernote orients news users with five emails that show the app's capabilities. Each offers a tip, then encourages the user to try it out. (You can see each of these emails below.) Evernote lets users know from the beginning that there will be five emails in the sequence. This sets an expectation and helps new users feel progress as they read and take action on each.
This is the core of the onboarding experience but there are a few other messages to supplement it. Here is a quick overview of the complete campaign.
Pretty straightforward, right? Now, let's take a look at each individual message.
Welcome emails should be clear, concise and actionable. Evernote's welcome email meets that criteria.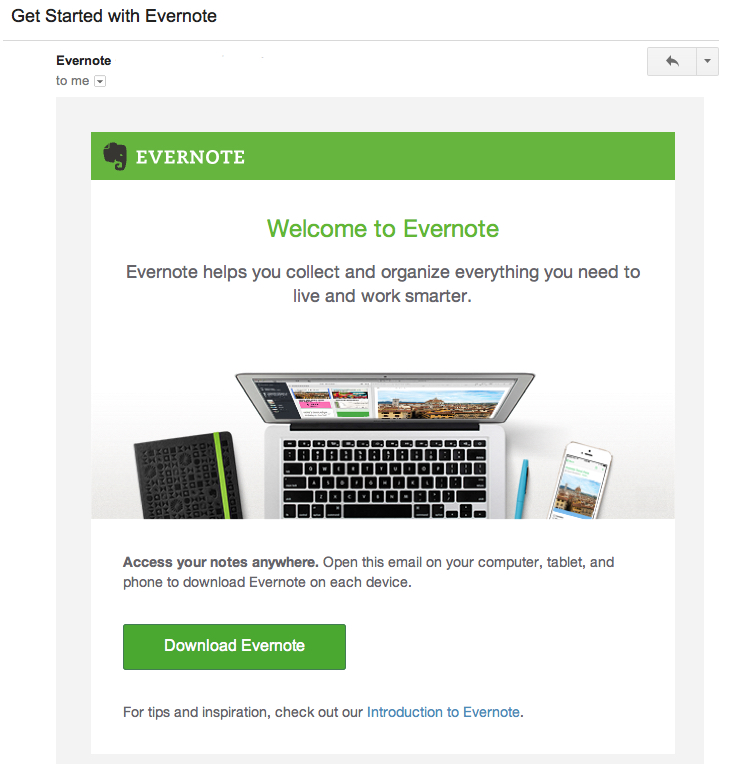 Instead of leading with a generic subject line like "Welcome to Evernote", they chose something more specific: "Get Started with Evernote". The phrase implies action, which the new user will need to take in order to start using the app.
Often, copy gets in the way of action. Tell your users what to do and get out of the way. Evernote keeps it short and sweet, telling the user to click the bold, green button to download the app. Users can't get value from Evernote without the app, so it's absolutely necessary that they take this step.
As an added bonus, users can use the same email on multiple devices and the link will take them to the appropriate application, i.e. iOS, Mac OS X, Android, etc. The same is true of the link to "Introduction to Evernote", which opens the correct help docs article depending on the device the person is using.
Day 3
Onboarding Email No. 1
You might think your product is easy to use, but put yourself in your users' shoes. They didn't build the app. They don't use it every day. Onboarding emails should be focused on the smallest, easiest ways new users can get value from your app, regardless of how trivial the first steps seem.
Evernote starts at the very beginning: creating the first note.
This email details a few things users can put in their first note like text, audio and images, then directs them to a blog post that goes into more detail.
This is a great way to maximize the content you're likely already creating. Not all of your content should be focused on your product but when there is overlap, you might as well give it to the people that need it most.
Another benefit of using content in onboarding is that people can leave comments with questions and feedback. The post linked in this email has more than 90 comments. That serves as a form of social proof, will likely help the post rank better in search and gives new users a platform to ask questions.
Day 10
Onboarding Email No. 2
The ability to use Evernote on multiple devices is obviously useful. They already made an effort to get new users to download the desktop and mobile apps in the first email, and now they are selling the benefits of that feature.
Evernote references their last email before encouraging the next step. If they haven't accomplished the task assigned in the previous email, this serves as a gentle reminder.
After you've captured a note, you can access it from any smartphone, tablet and computer where you've installed Evernote.
Once again, the link is dynamic, meaning it will know which device the user is on and send them to the appropriate download page.
Day 17
Promotional Email No. 1
This is the first of two promotional emails in the onboarding sequence. Evernote is wise not lead with this as users need time to sink their teeth into the app before deciding if it's worth upgrading.
Peep Laja, founder of ConversionXL, suggests that you "use brief but meaningful link text that explains what the link or button offers."
Evernote has done just this. The value proposition – "Always have the notes you need …" – is clear and the button tells you exactly what will happen when you click it.
As always, clarity reigns supreme in conversion rate optimization (CRO).
Day 19
Onboarding Email No. 3
Suggesting use-cases for a product is one of the best ways to get people using it. Evernote is a blank slate in the beginning and, like most apps, it gets more valuable as users spend more time in it. Providing a few suggestions is an excellent way to show (rather than tell) people how it works.
The gap between education and activation is difficult to bridge. (More on that here.) One company that has cracked this nut is IFTTT. Their recipe library accomplishes three difficult tasks all at once:
It shows people how the product works;
Lets users browse real use-cases;
And allows users to implement those actions with just one click.
Evernote doesn't take it this far but they are moving in that direction with their Tips & Stories blog. Product-centric content can be both educational and … activational. (I think I just coined a new marketing term.)
Day 27
Onboarding Email No. 4
One of the primary pain points that Evernote solves is keeping track of important emails, documents and media. The ability to forward emails to your Evernote account unlocks the power of the product for many users.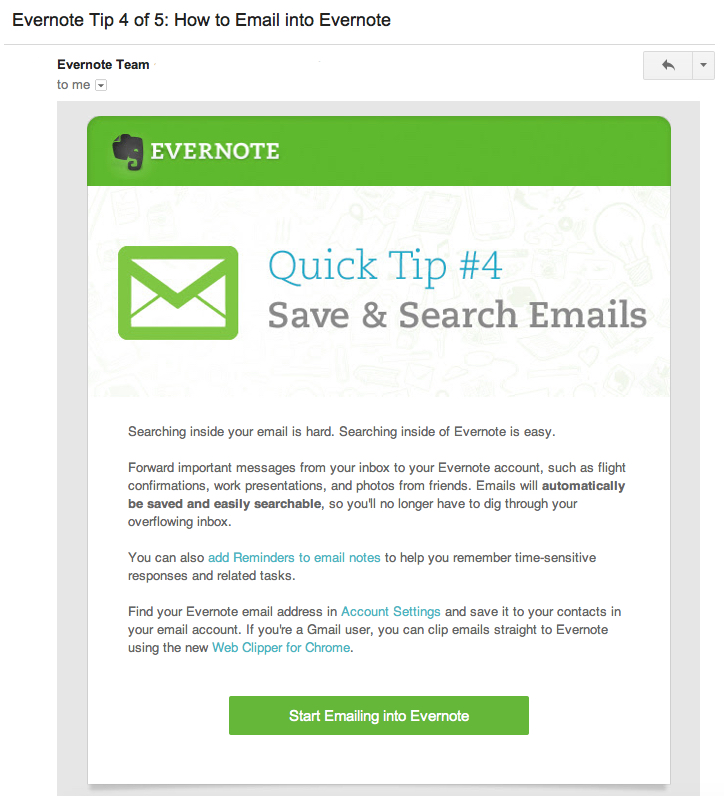 A simple "How to" should appear at least once in every onboarding campaign. Providing users with ideas for using your product and encouraging them to download apps are vital, but users will need instruction to get going.
"How to" posts aren't just a simple structure for educational content, they are also a great way to capture attention. The trick is to over-deliver so that by the end of the email or post, the user is satisfied. In How to Write Magnetic Headlines, Copyblogger's Brian Clark says, "writing a killer 'how to' headline will help you write even better 'how to' content when you fulfill the headline promise you made to get people to read in the first place."
In this case, Evernote promises instruction in the subject line, sells the value of taking action in the body, and sends users to their blog for a detailed explanation.
This email is an interesting deviation from the five-step plan. Evernote places a lot of emphasis on sending emails into their app – there's more evidence of that on day 33 – and I think I know why.
Ben Yoskovitz, VP Product at VarageSale, suggests looking at your best existing customers and figuring out what they did early on. Then, start driving all new users to those key actions with the goal of turning them into happy longterm customers.
Imagine for example that you find a relationship between users taking a particular action (e.g. following another user, posting content, searching, etc.) and their long-term engagement with your product. Users that take this particular action stick around much longer (they don't churn out) and generally represent your better, more engaged participants. That's a critical piece of information that you can now bring back into your onboarding experience.

The key is to get people to take the key action as early as possible in their use of your product.
Evernote has likely found that their best users frequently forward emails into their app. It's an action with a very low barrier to entry and is associated with power users, many of whom are likely premium users.
Day 31
Promotional Email No. 2
Here's the second (and final) promotion for the premium service.
Evernote clearly understands context – the unfair advantage that nearly all marketers overlook. We wrote an entire post on one Evernote promotional email and there is a lot of crossover from that post here.
By the time users get this email, they have already received seven other emails from Evernote. They've had a chance to use the app. They are starting to see the value of using Evernote more, and maybe using it replace other apps.
Evernote uses their onboarding emails to create demand for their own product. Then, when the iron is hot, they strike with calls to action like this one.
If you want to build momentum with new users, think about creating a few milestone emails. These messages are triggered when users take a desired action and congratulate them for 'good behavior.'
Note: This is the third and final piece of evidence that Evernote really wants news users to try the email feature.
As we mentioned in our massive guide to lifecycle emails, milestone emails reinforce the value your product, then encourage users to take the next step. This email accomplishes that by acknowledging past behavior, then offering suggestions to make the experience even better next time.
Write milestone emails with confidence. You can't hope there is a next time, you must know – or at least write like you do.
Day 36
Onboarding Email No. 5
Just like the other emails in the series, this one relies on content and instruction to explain utility and value. It's a simple formula but works.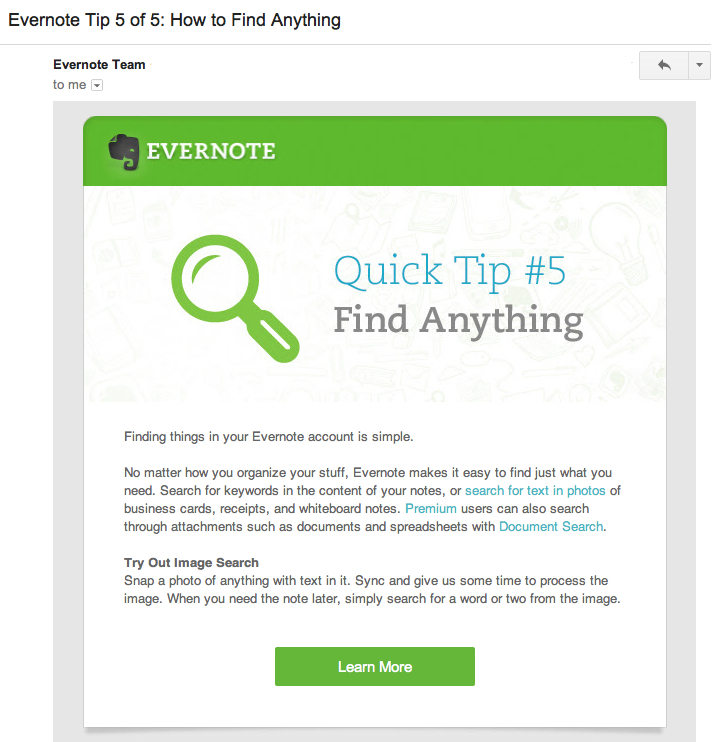 This email concludes the five-step series, but it's just the beginning of Evernote's lifecycle marketing. From here, users receive notifications about their account, newsletters with new content on the Evernote blog and occasional promotions from the Evernote Marketing.
Thanks to its lack of unnecessary complexity, this campaign is highly effective. Are you ready to finally update your own onboarding emails? Draw inspiration from Evernote and get it done.
Here are a few additional resources:
As always, if you have questions or feedback, just drop it in the comments.