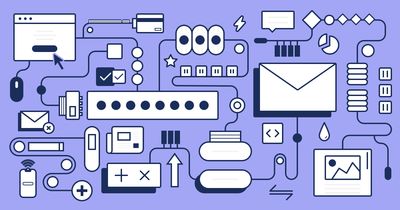 Transactional Emails: Types, Examples and Best Practices
Guides

Messaging and Automation
Definition of a transactional email
Transactional emails are messages that businesses need to send in order to facilitate a transaction or provide a product or service, as requested by the customer. For this reason, companies don't need to obtain consent from the customer to send transactional emails.
Businesses use transactional emails to communicate important information to customers at critical moments in the customer journey.
Transactional emails are usually triggered by a prospect or customer interaction with a website or an app. For example, password resets delivery information and receipts.
In this guide, we take a look at transactional emails and explore the different types, best practices, and examples from companies delivering delightful customer experiences.
Transactional emails vs. marketing emails
The purpose of transactional emails is to facilitate a transaction, already agreed by the customer, and should not be used as a means to generate additional revenue. Emails that are sent to promote a brand, product, or service, or generating revenue would be classed as a marketing or promotional email.
In most cases, permission to send transactional emails is not required, whereas you MUST obtain customer consent to send marketing emails. Customers cannot unsubscribe from transactional emails, but marketing emails must always give customers an option to unsubscribe – so it's essential to use transactional emails carefully.
Email sending laws vary significantly between countries. Ensure your email messages are compliant with the rules and regulations for your country, and those of the country your contacts reside.
As email engagement can impact deliverability, and marketing emails tend to have lower engagement rates than transactional emails: Gmail recommends separating transactional and marketing emails.
"If you send both promotional mail and transactional mail relating to your organization, we recommend separating mail by purpose as much as possible. You can do this by:
Using separate email addresses for each function.
Sending mail from different domains and IP addresses for each function.
By using these tips, it's more likely that crucial transactional mail will be delivered to a user's inbox." Gmail.
FAQ: Should transactional emails have an unsubscribe link?
Transactional emails are not required to have an unsubscribe link. Still, customers appreciate a friction-free process to manage their notification preferences.
It's best practice for transactional emails to include a clear message and link to manage preferences.
Types of transactional emails and best practices
Order confirmation emails
One of the most common transactional email examples is an order confirmation. These confirmations inform customers about the details of the transaction, product, and its shipment.
Order confirmation emails indicate that the transaction has been successful and the company is taking action, which helps customers feel safe about the transaction.
Here's an example from Allbirds:
Allbirds' order confirmation email provides customers with all the necessary details of the purchase and gives them a quick link to track their order. The email is customer-focused and easy to scan, with a clear call to action. Stating the delivery address reassures the customer the product it's on its way to the right place.
Allbirds' bold design and tone-of-voice deliver a memorable interaction that helps reinforce their brand personality and values.
Find out more about adding personalized content to emails.
Shipping notification emails
Shipping notification emails let customers know when their purchase has been dispatched, giving them peace of mind that it's on its way. Providing tracking information (or a link to track their purchase) allows customers to know when to expect it so they can make sure they are home to receive it.
Keeping customers informed about the next steps of the process can also help reduce the number of emails, and phone enquires to your support team.
Casper's shipping notification email does this nicely:
Source: Pinterest
Casper's order confirmation sounds friendly and aligns with the brands' tone of voice. Clear branding allows customers to associate this email with the company quickly.
The email informs customers of when to expect the next update – indicating the shipping process is under control, again alleviating any anxiety.
Referencing the purchased product in the email, along with its features and quantity, ensures the customer knows exactly which product the email is related to. This is particularly useful where a customer has made more than one order or transaction in a short period.
Delivery confirmation emails
Like shipping confirmation emails, delivery emails are an excellent opportunity to build up momentum by increasing excitement and satisfaction for the recent purchase.
This transactional email serves to ensure the purchased product gets into the right hands – When a customer receives a delivery confirmation email, but the product isn't there, they can get in touch with the company and report the problem.
Source: Really Good Emails
This delivery confirmation email provides customers with the delivery person's name and photo, making the delivery more personal. The email design is simple and summarizes all necessary information about the purchase, including a link to the receipt.
Double opt-in emails
Double opt-in emails ask new subscribers to confirm that they want to receive your emails (or other messages). Sending a double opt-in email verifies that the email address belongs to the subscriber, which can help to prevent spam and improve email deliverability.
This Buzzfeed example incorporates witty language, talking about the evil robot. However, beneath the humor, there is a severe attitude towards protecting customers' data and privacy.
Source:Really Good Emails
Find out more about setting up a double opt-in to manage user consent.
Password reset emails
Password reset emails are essential to ensure customers always have access to your product. Although the password reset message is very functional, it doesn't mean the email needs to be dull.
Check out these nicely designed email examples, from companies delivering excellent customer experience.
Slack's password reset email displays clear branding. The logo is prominent, so recipients can quickly recognize the sender. The conversational and concise copy builds on the brand's tone of voice, and the bold CTA button makes the purpose of the email clear.
Similarly, Airbnb's password reset email is concise and focuses on the request.
It can be helpful to let customers know when a password reset link will expire. If they don't use it straight away, they'll quickly know to request another one – preventing unnecessary emails to your support team.
Legal update email
Transactional emails can be used to inform customers about significant changes to legal documents and policies, for example, an update to a company's Terms of Service.
Here's an example from Harry's:
Source: Really Good Emails
Invoice emails
An invoice email is a transactional message that informs customers of a payment that is due.
Below you'll find an excellent example of an invoice email from Asana.
Read our step-by-step guide to setting up transactional workflows in Vero.
---
Want to send more personalized mobile and email messages to your users?
Check out Vero, customer engagement software designed for product marketers. Message your users based on what they do (or don't do) in your product.
Learn more about Vero and consider signing up for a free trial. No credit card required.