Amazon has 237 million active customers. If it were a country, it would the fourth-largest in the world. In the United States, Amazon owns a 30% marketshare in e-commerce … not exactly a niche market.
To what can we attribute Amazon's growth? After all, they have access to the same tools, people, software and infrastructure as every other retailer. The answer is simple, but trickles down into every nook and cranny of the business: Amazon is built on a culture of innovation.
At Amazon, innovation is bred into every facet of the business, from the top down. Here's a snippet of Bezos' view on innovation from a 2011 shareholder call:
If you invent frequently and are willing to fail, then you never get to that point where you really need to bet the whole company. [Amazon Web Services] also started about six or seven years ago. We are planting more seeds right now, and it is too early to talk about them, but we are going to continue to plant seeds. And I can guarantee you that everything we do will not work. And, I am never concerned about that. We are stubborn on vision. We are flexible on details.
Stubborn on Vision, Flexible on Details
The purpose of this guide isn't to praise Amazon. Rather, it's to examine the practical implications of their innovation in action, specifically with their email marketing.
In the average marketing department, email marketing relies heavily on promotional messaging and newsletters. Coupons, sales and content sent to massive lists of customers and prospects, occasionally segmented by purchase history is a shot in the dark.
This isn't to say that great copy and strong calls to action can't work – they often do – but, at best, they are only speaking to a small percentage of the recipients.
Amazon takes an entirely different approach. Every email is personalized using every scrap of information they have about their users: on-site behavior, past purchases, amount spent, location, age, gender, etc.
Instead of pulling random examples from our inbox to show you, we created a new Amazon account, made a few purchases and started collecting emails. What we found was really interesting, and really impressive. Below, you'll find the emails we received along with the context of their arrival (our behavior, purchases, etc.). It's a study in email-done-right and a template that other business can use send the right emails, at the right time, every time.
The Amazon Email Experience
The Amazon experience isn't beautiful, it's functional. A company like Apple invests time in aesthetics while a company like Amazon invests time in efficiency. The entire shopping experience is streamlined from top to bottom.
When it comes to email, Amazon doesn't waste any time with "blasts". They do, however, have templates that can be personalized based on behavior. And the longer you are a customer, the more data they have.
[toc_chapter_fifths color="blue" title="Welcome" link="#email-1″ number="1″] [toc_chapter_fifths color="green" title="Receipt" link="#email-2″ number="2″] [toc_chapter_fifths color="orange" title="Shipping" link="#email-3″ number="3″] [toc_chapter_fifths color="purple" title="Thank You" link="#email-6″ number="6″] [toc_chapter_fifths color="red" title="Invite" link="#email-5″ number="5″] [toc_chapter_fifths color="blue" title="Upsell" link="#email-4″ number="4″] [toc_chapter_fifths color="green" title="Black Friday" link="#email-7″ number="7″] [toc_chapter_fifths color="orange" title="Review" link="#email-8″ number="8″] [toc_chapter_fifths color="blue" title="Browsing" link="#email-9″ number="9″]
[toc_chapter_title number="1″ title="The Welcome Email" color="blue"]
Since Amazon doesn't know much about me yet, there isn't a ton of personalization they can do. They offer a brief overview of their services and show me where to find a few key bits of information about my account. The call to action – that bold, yellow button – is clear and unintimidating.
The common question that gets asked in business is, why? That's a good question, but an equally valid question is, why not?
It's worth noting that Amazon has included a some information that isn't vital to a new user but could very well drive engagement, and therefore create more data. They lead with customer support, then mention their best product, the Kindle, the availability of digital content, plug their mobile app and link to Twitter and Facebook. (Remember, you can actually make purchases on Amazon via Twitter.)
This email is transactional in nature but there's so much more to it. Amazon has sent more than 200 million welcome emails and, clearly, they have narrowed down the copy and content that gets people using their website and making purchases as fast as possible. The subtle addition of marketing to a transactional email is low-hanging fruit.
[toc_chapter_title number="2″ title="The Receipt" color="green"]
Email receipts need just one thing: utility. They are designed to pass on necessary information about a purchase that a customer can keep for their records.
Amazon takes receipts a step further with some additional functionality. Take, for example, the links in this email. They are deep. Clicking the order number takes you directly to the order, where you can track it, write reviews or buy another one. (My dog loved this, I'll definitely be getting more.)
We can afford to focus on smaller and smaller defects and eliminate them at their root. That reduces cost, because things just work.
Just under the product name, there are links to share on Facebook, Twitter and Pinterest. And why not? It's unlikely that too many customers do this but when you send millions of receipts per year, Amazon can turn it's customers into salespeople. Social proof is, of course, one of the key drivers of sales on Amazon.
You'll also notice that Amazon includes a link titled "Your Recommendations". This signals the beginning of data collection. Clicking that link takes me to a page of recommended products, created dynamically just for me.
[toc_chapter_title number="3″ title="The Shipping Confirmation" color="orange"]
This email is nearly identical to the receipt except that the button links directly to the tracking information rather than the order receipt.
No need to break this email down in the same detail we did above, but we do need to ask one question: How effective must this email be if Amazon chooses to send nearly the same content and calls to action twice?
[toc_chapter_title number="4″ title="The 'Thank You' Email" color="purple"]
"Thanks for making a purchase Amazon. Here are a bunch of ways to make lots more purchases, on every device and platform."
That's essentially what this email says but Amazon does a nice job presenting it as a resource for new shoppers. Let's take a look at all the things they plug:
Amazon Prime: Pay an annual fee for two-day shipping and other membership benefits
Amazon Mobile App: Shop from your smartphone
Gold Box: Amazon's take on Groupon. Get deals on products, downloads and even events in your local area.
Subscribe & Save: Subscribe to any product (I do this with dog food) and Amazon will automate the purchase each month.
Kindle: Read (and buy) books
Fire Tablets: Amazon's iPad competitor, also loaded with ways to make purchases
Amazon Fire TV: Similar to Roku and Apple TV, it allows users to access digital content via their Prime membership
Fire Phone: Smartphone that comes with a Prime membership and enhanced Amazon customer support
Facebook: Stay up-to-date on deals
Twitter: Add items to your Amazon Wishlist with a hashtag
The email is clearly promotional but I've been an Amazon customer for years and wasn't aware of all these things. It's genuinely useful information. Not too many companies welcome customers this way but if you offer more than one service, why not introduce new folks to the rest of your business?
[toc_chapter_title number="5″ title="The Invitation" color="red"]
Perhaps because I've made a purchase within just a few days of signing up for a new account, Amazon wants to strike while the iron is hot. In this email, they invite me to join a site called MyHabit.com that curates deals for clothing and other fashion products.
There are two things I find especially interesting about this email:
1. There's a clear trend
Within five days of opening the account, I made two purchases.
October 21: Open account
October 23: Purchase #1
October 26: Purchase #2
October 31: Invitation to MyHabit.com
My purchasing behavior is trending upward. They've had to do very little to entice me to buy. They see this as a signal that I'm ready to spend and are trying to built a habit of frequent purchasing.
We've had three big ideas at Amazon that we've stuck with for 18 years, and they're the reason we're successful: Put the customer first. Invent. And be patient.
According to Nir Eyal, author of Hooked, frequency is the fastest way to build a new habit.
In a recent study at the University College London, researchers followed participants as they attempted to form a habit of flossing their teeth. As one of its findings, the study concluded that the more frequently the new behavior occurred, the stronger the habit. Like flossing, frequent engagement with a web site or app increases the likelihood of forming new habits.
Check out his post Getting Your Product Into the Habit Zone for more on this.
2. There's demographic data at work
The email and the site features men's clothing and photos of men around my age. When I click "Show Now", I'm taken to the Men's page, not the homepage. This page also features sharp-looking guys in their late 20's.
MyHabit.com is selling me a better version of myself, and they've built it directly into the email.
Credit: User Onboarding
[toc_chapter_title number="6″ title="The Upsell Email" color="blue"]
Americans spent $55 billion on their pets in 2013. Naturally, Amazon identifies me as a pet owner as a result of my purchase history and expects that I will be spending more money on my dog.
I love this email because it's so direct. Essentially, it saying "You know you need stuff for your dog, you might as well save some money on it."
We can't be in survival mode. We have to be in growth mode.
The bold, clear button makes it obvious what to do next. Behind that button is a sea of pet supplies … everything from food and carriers to leashes and toys. This is an instance where it doesn't make sense for the recipient to spend much time in the email. The experience is behind the button, the email just needs to focus on spurring a click.
[toc_chapter_title number="5″ title="The Black Friday Email" color="green"]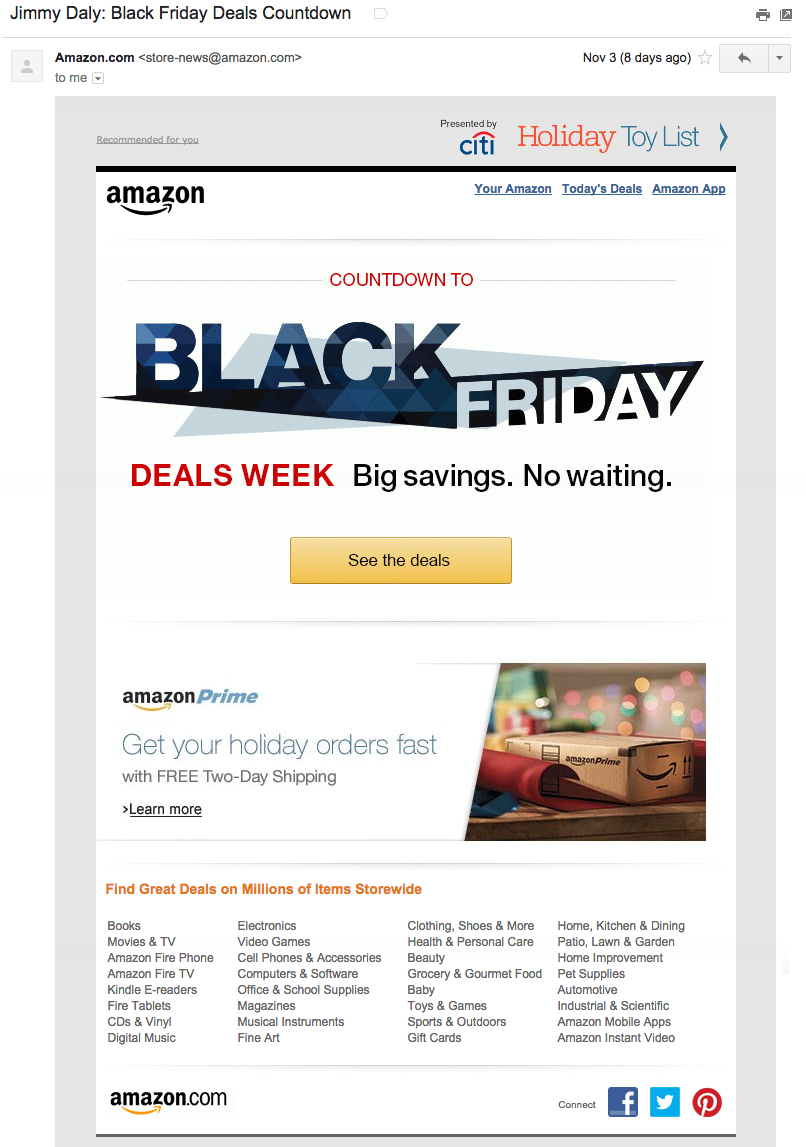 Most of the emails that we've looked at so far were either transactional and or highly personalized for me. This email is different since 1) nearly every e-commerce business sends Black Friday emails and 2) Amazon likely send this same email to every customer.
What's interesting about this is that copy is kept to a bare minimum. In fact, they don't even use full sentences. All you really need to know is:
Black Friday is coming
We have deals
See them here
Done.
The only distraction here is the plug for Amazon Prime, which brings with it some context. If you are going to shop online during the holidays, you need gifts to arrive on time. Prime guarantees that can happen so it's a logical place to inset a call to action for customers to learn more about it.
Maintain a firm grasp of the obvious at all times.
Also of interest, once I clicked this email I started seeing retargeting ads in my Facebook feed. Black Friday is a big deal – consumers spent $59 billion last year – and Amazon is all in.
[toc_chapter_title number="5″ title="The Review Email" color="orange"]
What's the first thing you check when you are looking at a product on Amazon? The reviews, of course.
Social proof isn't a new concept but Amazon is the first to prioritize and scale it. Every time a purchase is made, Amazon asks the customers for feedback. The feedback, in turn, helps other customers make smart purchases, creating a better customer experience for everyone.
Not in the email above that Amazon is very specific about the feedback they want.
"How did the size large fit?"
Simply clicking the appropriate review automatically adds data to the the product page:
The user is brought to a page where they can leave a review and give the product a star rating. Amazon has been able to scale this process because people are helping each other, and Amazon benefits as a by-product.
The cherry on top is that some people leave hilarious reviews and Amazon actually keeps track of the most hilarious reviews here.
Talk about a win-win.
[toc_chapter_title number="5″ title="The Browsing History Email" color="purple"]
There are, of course, some downsides to all this data. For example, when you indulge a guilty pleasure by looking at Halloween customers for your dog, only to be reminded about it later in an email.
I never thought someone would ask me, "Are you looking for something in our Pet Apparel department?"
(We've committed to being transparent on the Vero blog, even if it's cringeworthy.)
Did you know that you could dress your dog up as a pumpkin, peacock or orca? This email is fabulous for the entertainment value alone but it's also data-driven. I did indeed search for a Halloween costume for my dog, so they have quantitative evidence that I should be interested in the products displayed here. It comes at the just the right time in the buying cycle since I've expressed clear interest but haven't made a purchase.
If you never want to be criticized, for goodness' sake don't do anything new.
Notice also that Amazon avoids using copy like "Buy Now" or "Add to Cart". The copy on the buttons is friction free. The idea is to move people to the next step, not seal the deal right here in the email.
I'm sure my dog will love her new orca costume. Obviously Amazon sends many more emails than the nine we've highlighted here. Hopefully this post gives you an idea of their approach. By using the data you already have, and inserting simple messaging at the right places in the buying cycle, you can dramatically increase sales, engagement, pageviews or whichever metric you're after.
What's the most enlightening thing about Amazon's approach to email?
---
Want to send more personalized mobile and email messages to your users?
Check out Vero, customer engagement software designed for product marketers. Message your users based on what they do (or don't do) in your product.
Learn more about Vero and consider signing up for a free trial. No credit card required.