Mailchimp alternatives for your jobs to be done
If you currently use Mailchimp, you're in good company. Litmus' 2019 State of Email Service Providers report revealed that 23% of email teams rely on the email giant.
However, there comes a time when many companies outgrow MailChimp or hit a wall with what they're trying to accomplish. When that happens, you have to start looking at MailChimp alternatives. 
Choosing the Best Mailchimp Alternative
One look at a list of all the best MailChimp alternatives to choose from is enough to make your head spin. There are so many email service providers to explore, and they all have their merits.
So how do you choose the best option for your company? It's helpful to start by thinking about your "jobs to be done." 
What are your current frustrations, and what types of projects are most important to you? There's no one-size-fits-all email service provider, and that's a good thing. Nobody wants to pay for a bunch of bells and whistles they don't use, so prioritizing features to choose what's best for you is key.
In this guide, we've categorized the biggest players based on common use cases and needs so you can shortlist which tools to look at next.
Simple Email Content Design
Mailchimp
Let's start with your current baseline. Why is MailChimp so popular, and who is it good for? If you're a small business who just wants to send a few newsletters, then MailChimp is a good option.
Its template editor is great for those who either can't or don't have the time to write email code, and there are free plans for low volume senders. 
Pros and Cons:
Drag and drop template editors make beautiful emails easy
If your email list is below 2,000 people, your account is free
Custom coded templates and automation are reserved for more expensive plans
Some users find MailChimp lingo, organization, and triggering for automation confusing
Pricing: Plans range from $0 a month, to well over $1,000 for 200,000+ subscribers. If you anticipate your email list growing substantially, it could get pricey really fast. 
Campaign Monitor
Campaign Monitor is another popular Mailchimp alternative that offers drag-and-drop design. You can start from one of their templates, or import your own HTML code. This tool is a good option for people who may want to keep their features streamlined despite their list size.
Similar to Mailchimp's pricing structure, Campaign Monitor allows you to choose any of their three package levels no matter your subscriber level. That means you can stick to basic marketing automation whether you have 200, or 20,000 subscribers.
Pros and Cons:
It's easy to choose the level of features you want with more flexible plans
Mid-tier plans offer unlimited spam testing
You'll need to use integrations for some features, such as landing page forms, as they aren't native to Campaign Monitor
Some users find Campaign Monitor's automation limiting
Pricing: A basic level plan for up to 500 subscribers is $9, while a premier plan for 50,000 is nearly $1,000 a month.
Whereas some companies reserve the most feature-dense plans for companies with high subscriber counts, Campaign Monitor allows any user to choose between the three product levels, with pricing for each plan adjusting based on company size.
Multi-channel marketing
Vero
Ready to expand beyond email? Vero is perfect for teams that want to quickly create workflows and automation for both email and mobile push notifications. You can send via Vero, or bring your own email or push infrastructure into the mix. 
Pros and Cons:
Integrations with Segment, Stitch, Zapier, and more
Easily create workflows across channels with real-time data
Working with templates and setting up emails requires some HTML knowledge
It's limited to email and push notifications only, no SMS available
Pricing: Monthly plans are based on the number of subscribers, ranging from $125 a month for unlimited messages to 1,000 subscribers to $1,399+ for lists over 300,000. 
Braze
Braze is a cross-channel customer messaging platform with AI built-in. More data-savvy users can set up email, mobile, and web notification campaigns, and then review integrated insights and AI predictions. 
Pros and Cons:
Manage email campaigns, mobile push notifications, and in-browser messages
Review detailed analytics and heat maps to understand what's working
Likely too involved and data-heavy for light users or small teams
No pricing transparency
Pricing: Braze's package page asks you about your goals to suggest a plan, but there are no prices listed anywhere.
Integrating CRM data
Autopilot 
If you're in charge of managing customer engagement and sales pipelines across channels, Autopilot can help you get organized. It integrates with Salesforce, among other tools, and is used for email, SMS, in-app messages, social ads, and even direct mail. 
Pros and Cons:
Has a drag and drop email editor for ease of use
Marketing automation templates give you a head start
Some customers have gone through significant price changes recently
Customer activity, or "event tracking," is more limited than some competitors
Companies with more than 10,000 subscribers need a custom plan
Pricing: Monthly plans start at $49 for 2,000 contacts and go up to $249 for 10,000 subscribers, making it more affordable than some similar options. 
Salesforce Marketing Cloud
Salesforce is a behemoth in the SaaS space, with 21% of teams using Salesforce Marketing Cloud as their email service provider. This option is best for enterprise companies or teams looking for a wide range of features. 
Pros and Cons:
A one-stop-shop for CRM and marketing automation
Advanced analytics and segmentation
There will be a learning curve getting up to speed with the complex back-end
Pricing plans aren't small-business-friendly
Pricing: There are a lot of different Salesforce solutions to choose from, but their email, mobile, and web marketing plans start at $400 a month and go up to $3,750+. Pricing depends on features and not subscriber count. 
Synchronizing with your product or platform
Vero
Vero is a great email option for SaaS companies that want to track user engagement. The Event Manager allows you to track user actions within your platform and create custom marketing automations. 
Pros and Cons:
Use Javascript, Ruby, Python, and other libraries to track product usage activity directly
Integrates with Segment and Zapier to track usage activity
Build, test, send, and analyze campaigns based on product usage activity ("event tracking")
This is a tool for a digital-first company, and not ideal for companies that don't have any engineers in-house. Vero is better suited for software companies who want to gather and plug-in their product usage data. 
Has limited integrations with other CRM tools
Pricing: Monthly plans are based on the number of subscribers, ranging from $125 a month for unlimited messages for 1,000 subscribers, to $1,399+ for lists over 300,000. 
Customer.io
Customer.io is a marketing automation platform that lets you send targeted messages to users based on what pages they've looked at, what actions they've taken, their subscription history, and more.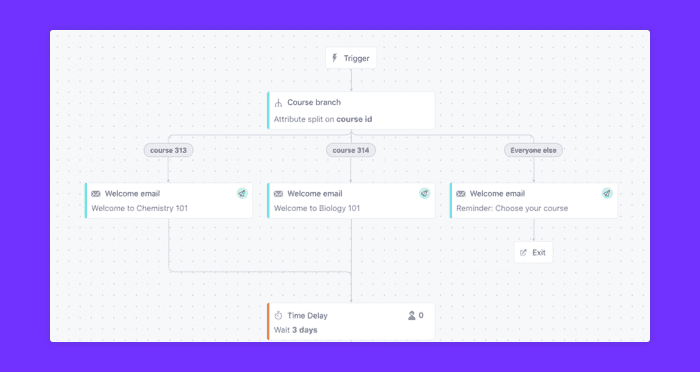 Pros and Cons:
Send emails, push notifications, and SMS based on behavioral data
There are multiple ways to add custom data
Uploading data and connecting custom APIs requires technical knowledge
Lack of some direct integrations means you'll need to create some workarounds
Pricing: The "Basic" plan starts at $150 a month for up to 12,000 subscribers, and goes up to $600+ for 100,000 profiles. Alternatively, the "Premium" plan with more features and support starts at $995 a month.
Using eCommerce platform data
Klaviyo
eCommerce brands that use email to drive a large percentage of their business will like the integrations and segmentations available with Klaviyo.
The email service provider tailors to eCommerce companies and is a free Mailchimp alternative for up to 250 contacts. 
Pros and Cons:
A/B testing capabilities and template workflows for eCommerce are built-in
Audience and behavioral segmenting tools are available
Advanced functionality can mean longer setup times
More expensive than other options
Pricing: Monthly plans are split by email, SMS, email and SMS based on the number of subscribers. It can get pricey, with 50,000 email subscribers costing $700 a month with Klaviyo, vs. $199 a month with Vero. There is a free tier if you have 250 subscribers and send less than 500 emails a month, though. 
Constant Contact
If you want eCommerce integrations in a smaller and cheaper package than Klaviyo, consider Constant Contact. There are automated eCommerce sequences and segmentation with their Email Plus plan, starting at $45 a month.
Pros and Cons:
Create automated email sequences with customer segmentation
You can also create landing pages, sign up forms, and social ads
Workflows aren't as customizable or advanced as other tools
Email design and customization are slightly limited, too
Pricing: A streamlined plan without automation starts at $20 a month, while the "Email Plus" plan starting at $45 has more features. 
Marketing automation
Vero
Marketing automations have a lot of moving parts, but Vero's workflows make it easy to visualize campaigns. Your team can quickly review data to create personalized email and push notification experiences.
Pros and Cons:
Use A/B tests to optimize every message and campaign
Build, test, send, and analyze campaigns based on product usage activity ("event tracking") events
There are no workflow options to trigger ads or direct mail
Some integrations will require engineering help
Pricing: Monthly plans are based on the number of subscribers, ranging from $125 a month for unlimited messages for 1,000 subscribers, to $1,399+ for lists over 300,000. 
ActiveCampaign
ActiveCampaign allows you to set up automations in a single view that connects to a huge assortment of apps. 
Pros and Cons:
Connect to 250+ apps including Zapier, Shopify, and more
Drag and drop automation builder
Some customers feel tracking capabilities are lacking
The UI can be cumbersome to learn and find all features
Pricing: Your monthly price is based on the package level you choose, as well as your subscriber count. If you have fewer than 500 subscribers, your monthly cost could range from $9 a month for the "Lite" plan and up to $229 a month for "Enterprise." Pricing is hidden for nearly all plans if you have more than 50,000 contacts. 
API-triggered transactional emails
Sendgrid
Companies that want maximum control and personalization over their email platforms may prefer API-triggered tools such as Sendgrid. Developers can use Sendgrid APIs to create custom in-house email marketing. 
Pros and Cons:
Customers like Sendgrid for its deliverability and scalability
Ability to customize API access per user
Some workflows and email editing have a learning curve
Limited features for non-technical users
Lower-tier plans don't have a dedicated IP to own sender reputation
Pricing: The "Free" plan includes 100 emails a day forever, but some features are limited. The "Essentials" plan has the same features as "Free," but you can bump send volume up to 50,000 a month for $14.95, and up to 100,000+ emails a month for $29.95. The "Pro" account with a dedicated IP and email validation ranges from $89.95 to $749+ a month. 
Mailgun
Mailgun is marketed as "the email service for developers." It's useful for transactional or bulk email sends from companies that can work with the API. 
Pros and Cons:
Free for up to 10,000 emails a month
Detailed deliverability reporting
The free plan doesn't have a dedicated IP
Live support is reserved for higher-paying plans
Pricing: Similar to Sendgrid, Mailgun offers a free plan. However, Mailgun's free plan includes up to 10,000 monthly emails free, and a per-email fee above that. Paying plans are based on  monthly email sends and the number of email validations included, and range from $275 a month through $1,575+.
Even the simplest Mailchimp alternatives take some time to implement, so it's wise to choose carefully. Questions you can use to make your decision include:
How big is your email list now, and how much will it grow over the next few years?
Would you rather have an all-in-one platform from the start, or add tools as you need them?
What type of business do you have, and what special features or integrations do you need to accommodate?
Vero may be a good fit for you if you want to:
Synchronize your product or platform data to your email marketing tool
Send targeted, personalized messages via email and push notifications
Easily create automation flows across channels, whether you're a technical or non-technical user
Interested? Sign up for a free trial here. 
See the below comparison chart for an overview of which tool to choose!
| | Used for | Prices starts at | Pro | Setup difficulty |
| --- | --- | --- | --- | --- |
| Mailchimp | Simple email design | $0 | Drag and drop template editors make beautiful emails easy | 1/3 |
| Campaign Monitor | Simple email design | $9 | It's easy to choose the level of features you want with more flexible plans | 1/3 |
| Vero | Multi-channel marketing, sync with product, marketing automation | $125 | Easily create workflows across channels with real-time data | 2/3 |
| Braze | Multi-channel marketing | Unlisted | Manage email campaigns, mobile push notifications, and in-browser messages | 2/3 |
| Autopilot | Integrating CRM data | $49 | Has a drag and drop email editor for ease of use | 1/3 |
| Salesforce Marketing Cloud | Integrating CRM data | $400 | A one-stop-shop for CRM and marketing automation | 1/3 |
| Customer.io | Sync with product | $150 | Send emails, push notifications, and SMS based on behavioral data | 2/3 |
| Klaviyo | eCommerce integrations | $0 | A/B testing capabilities and template workflows for eCommerce are built-in | 1/3 |
| Constant Contact | eCommerce integrations | $20 | You can also create landing pages, sign up forms, and social ads | 1/3 |
| ActiveCampaign | Marketing automation | $9 | Connect to 250+ apps including Zapier, Shopify, and more | 1/3 |
| Sendgrid | API-triggered transactional emails | $0 | Customers like Sendgrid for its deliverability and scalability | 3/3 |
| Mailgun | API-triggered transactional emails | $0 | Detailed deliverability reporting | 3/3 |