The best way to organize your marketing stack
Every industry has its signature "tools of the trade," but not many are as varied and complex as your marketing stack options. As marketing channels and strategies have evolved, so too have the software we use to accomplish tasks. 
For your reference, a marketing stack is the set of tools and software you use to complete tasks along the entire customer journey. Today we'll be covering a helpful way to think about and choose your stack, but first, let's take a step back in time. 
The Chief Marketing Technologist blog began keeping track of all the marketing tech available back in 2011, with an updated number each year. The latest edition of the "Martech 5000" graphic reveals a whopping 8,000 martech companies in 2020.
It's no wonder choosing a marketing tech stack can be so overwhelming!
This scale is even more impressive when you compare it to the fact that there were 150 martech tools in 2011. That's over a 5,000% increase in under a decade.
If you've ever been frustrated trying to decide what tools you need, and how to choose between options, you're not alone. It's a lot to navigate. There's a logical way to approach all of this, though. 
Let's dive in. 
The 3 stages your marketing stack needs
Merely splitting your marketing software options into product categories isn't enough to make sense of it, especially since many companies offer multiple solutions or toolsets. 
If all of your other marketing strategies happen along the customer journey, then why wouldn't you think about your marketing stack in the same way?
Here are the three stages you need to consider. 
Attract
The first categories of tools are the ones you use to meet potential users. These consider where and how you'll introduce your company, as well as how you move from prospect to buyer. 
Top-of-funnel tactics in this category include social media, content marketing, and SEO. Your tech stack in this phase should help you organize and automate marketing, as well as conduct research into opportunities. 
Engage
Once a user has started engaging with your company, starting at onboarding, you have to provide as much value as possible. Use "engage" stage tools to encourage interaction, teach users new skills, and resolve issues. 
In this stage, you're focused on your messaging, user experience, and converting from trial users to paying customers. These tools help you segment users to deliver tailored experiences, as well as support users and resolve issues. 
Optimize
The final stage of your marketing stack is "optimize." This is where you combine everything you've learned about user actions to improve customer experiences, as well as encourage upsells and referrals. You'll also conduct A/B testing in this phase. 
In this stage, it's critical that you use tools and integrations that help you collect user data and put insights into action. Information from your tools at this stage can feed back to the beginning of the loop for improved targeting and messaging.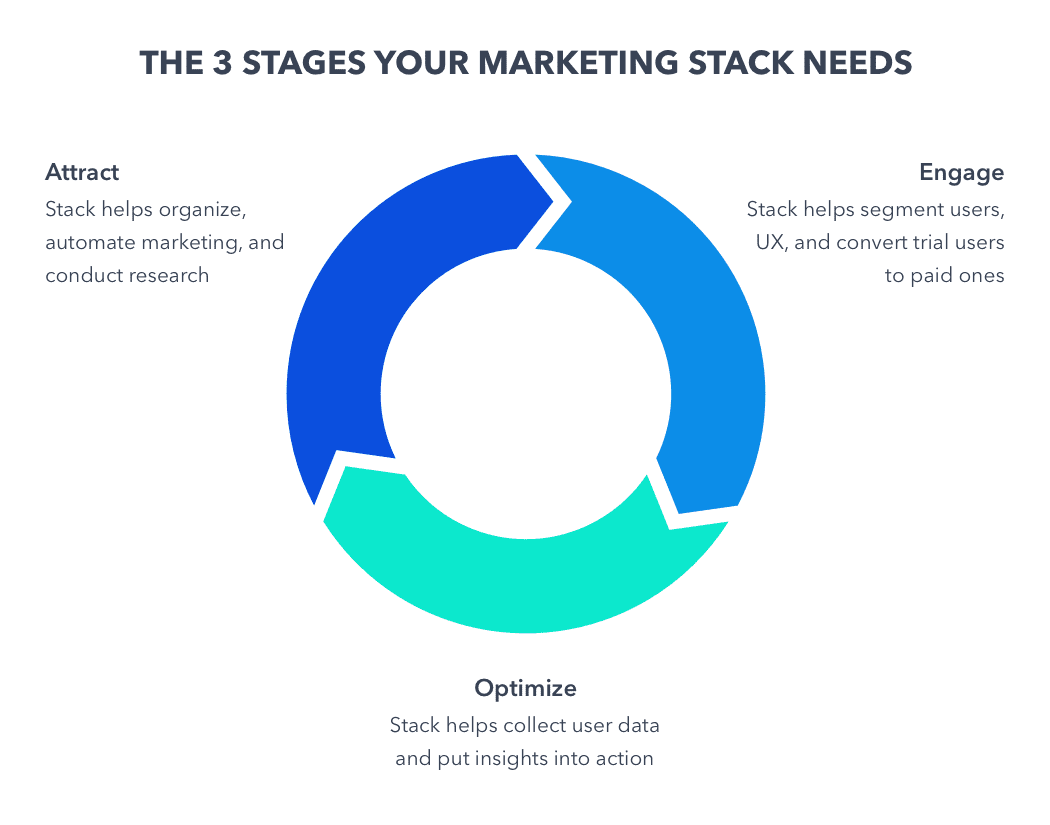 Making the most of your marketing tools
When you're strategizing your marketing and planning campaigns, it's helpful to consider everything in terms of lifecycle marketing. Similar to how we grouped your essential marketing tech above, your lifecycle marketing plans account for the journey between discovery, purchase, and advocacy. 
Without glue to hold all of these pieces together, though, your marketing effectiveness will fall apart. That's where the need to consider user context and an omni-channel experience comes into play. 
Traditionally, marketers may have used components of their tech stack in silos. You went to your CRM app to track leads, set up social campaigns on your scheduler, and created emails without user data.
When left unchecked, this strategy leads to an overwhelming number of tools in your stack, a disjointed experience for users, and data-driven opportunities left on the table.
Also Read: How to get started with B2B marketing automation
So what should you do?
Start with strategy: Consider what channels you use to interact with users, and how they can be better linked. Also pinpoint your most powerful channels, and what sparks user action.
From there, choose tools that can play well together for seamless strategy and implementation.
Here are a few examples of how you can use your marketing tech stack to create an omni-channel experience:
Connect your SEO tools with project management software to set up recurring tasks for content audits or topic research
Send a push notification reminder if a user hasn't opened a critical email in 3 days
Bridge your live chat software and email program to create dynamic campaigns
Add customer support notes to messaging profiles for future personalization or persona research
Analyze customer referral programs against onboarding engagement to boost retention
Want to learn more about omni-channel marketing? Read our guide to getting started here.
Top tools to add to your marketing tech stack
We've just covered the three essential marketing stages you can use to organize your full stack marketing program. Now, it's time to dive into examples. For each of the three stages we'll cover product categories to consider, as well as top tools for each. Ready? Let's get started!
Attract
Advertising
If you use multiple channels to advertise your business, from paid ads on Google and Facebook to LinkedIn, Snapchat, and beyond, then you know how much time it takes to switch between tools. Having an integrated advertising platform to manage all channels in one place is a real time-saver. 
When analyzing advertising tools, choose one that plays well with your messaging and data analysis tools. For example, you should be able to send data about prospects in different stages of the sales funnel back and forth between your Facebook ads, and automated email sequences. 
AdEspresso
AdEspresso helps small businesses and eCommerce companies create, edit, and analyze marketing campaigns across Facebook, Instagram, and Google. Plans start at $49 a month for companies with up to $1,000 a month in ad spend. The tool can also integrate with other marketing stack components, such as your CRM.
Metigy
If you want to add a little AI to your marketing analysis and advertising strategy, you may want to try Metigy. This tool helps you stick to priority marketing efforts while learning from content reach and engagement, and then giving you actionable AI-driven insights. There is a free plan with limited features, and paid plans start at $25 a month.
Honorable Mentions
SEO
The most effective SEO efforts are powered by up-to-date data and tracking, which means automation is always a welcome addition. Adding an SEO tool to your marketing tech stack can help you easily audit current efforts and identify new opportunities. To make the most of your SEO tool, make sure you can run content checks within your writing editor or set up recurring tasks in your project planner. 
SEMRush
SEMRush claims to be an "all-in-one-marketing toolkit" with features ranging from competitive research, and reports to backlink tracking, as well as keyword research. Some of SEMRush's tools may come in handy for other marketing channels and strategies, too. 
Moz
Moz has a collection of SEO tools for do-it-all keyword research, businesses focused on local traffic, or organizations ready to adopt APIs. Pricing starts at $99 a month. Like many other SEO tools, Moz has free resources to learn the ins and outs of increasing traffic. 

Honorable Mentions
Content Marketing
Like many other marketing tasks, your team may be able to organize and manage content marketing by hand in the beginning. However, as your marketing program scales and workload increases, there comes a time when specialized tools can help. 
Tracking data about how users are interacting with your content can help you personalize email automations or power dynamic content. Plus, you can send push notifications to alert your audience about new content. 
CoSchedule
CoSchedule is a calendar tool that helps your team organize campaigns in a single view. For content, you can integrate with WordPress to bulk schedule social posts and uploads. Blog calendar plans start at $9 per user a month. 
BuzzSumo
BuzzSumo helps your content team find content ideas that are likely to perform well. The app also has an API that's useful for building internal reporting tools and tracking content performance. A "pro" plan for 1-5 users will cost you $99 a month. 
Honorable Mentions
Social Media Marketing
Maintaining a schedule of posting multiple times a day across all social channels is a lot of work. Luckily, you can add tools to your full stack marketing lineup that will automate the process to free up more time for strategic thinking or analysis. 
For example, how does top-performing messages differ between "attract" stage social posts and "engage" stage emails? Also, how does retention compare for cohorts that come to you via different social channels or campaigns?
Buffer
Buffer's two main value points are simple—publish your content and analyze campaigns. This doesn't mean features are limited, though. You'll also find tools such as custom reports, hashtag planning, shop grids, and more. To gain access to publishing and analysis tools, plans start at $35 a month. 
Sprout Social
Sprout Social  focuses on social listening, publishing, engagement, and analytics. The app can also help you manage customer relationships on social channels and empower team members to jump in as brand advocates online. Plans start at $99 per user per month. 
Honorable Mentions
Engage
Customer Support 
Your customers are the core of your company, so you need scalable solutions to deliver excellent experiences. Don't leave customer support data to collect dust, though! Set alerts to review interactions with customers having a hard time, and identify points on your lifecycle marketing that could use more support. 
Intercom 
Intercom is a messenger service for your customers and a customer and data management tool for your team. In addition to customer support, Intercom is also useful for lead generation.  An "all-in-one" plan for lead generation, customer engagement, and customer support starts at $87 a month. 
Zendesk
Zendesk is both a sales CRM and customer support help desk. On the customer support side, you can use the app to bring all support channels into one view, and even track trends and data. Support plans start at $5 per agent a month. 
Honorable Mentions
Onboarding
The first weeks of a free trial or new account are critical to long-term success. Data-driven and automated onboarding tools help you deliver personalized flows at scale. Therefore, the tools you use to send automated onboarding messages need to connect to as much customer information as possible.
 For example, what blog posts have they read? What actions have they taken? What topics have they used live chat for? All of a user's interactions can give you context to their journey and needs. 
Appcues
Appcues has automated onboarding through in-app messages, product tours, announcements, and more. This tool helps you guide new users once they're in your app. Monthly plans start at $249 a month. 
Vero
Vero lets you easily create automated onboarding workflows with email and SMS push notifications. Activity tracking, segmentation, dynamic data feeds, and more help you deliver relevant messaging when it matters most. Monthly plans scale with your business, and start at $125.
Honorable Mentions
Customer Feedback
Customer behavior data can tell you a lot about how users are engaging, but sometimes the best insights come from conversations. Here are some tools to collect feedback and learn about user preferences and needs. 
Once you've collected feedback, use your insights to inspire A/B tests. If you notice a trend in feedback, it's worth testing new messaging strategies or touchpoints. 
Formstack
Formstack is an online form builder that integrates with more than 40 popular tools. Easily create surveys to gather customer feedback, and then send vital data to your CRM, email program, help desk, and more. You can start using Formstack for $19 a month, and add on to your plan with upgrades such as online forms and workflows.
SurveyMonkey
SurveyMonkey is a survey tool that you can use to create surveys, polls, and more. This app also integrates with popular tools such as Salesforce and Zapier so that you can easily share data throughout your marketing technology stack. Business plans range from $25 per user a month, up to $75+.
Honorable Mentions
Review and Referral Programs
One of the many benefits of boosting your retention rate is that satisfied customers can turn into influential promoters. Below are a few apps to help you manage your referral program. 
Influitive
Influitive is a platform that helps you manage customer referrals, references, and reviews. The app also has gamification features to encourage users to follow through. Infuitive doesn't list prices publicly. 
Yotpo
Yotpo is a customer review and referral platform targeted at eCommerce companies. You can also create custom loyalty programs with the app. To access integrations and analytics, you'll need to opt for their "Premium" plan, which doesn't list pricing. 
Honorable Mentions
Messaging
Channels such as email and push notifications are your direct communication line with customers. With an average email ROI of $42 for every $1 spent, it's worth it to invest in comprehensive messaging tools.  
Use data integrations such as Segment, Stitch, and Zapier to boost personalization. You can also take what you learn from your SEO tools about top-performing keywords to generate email campaign ideas.
Vero
Vero lets you coordinate all of your emails, push notifications, and custom interactions on a single canvas. You can also trigger customer interactions based on data from powerful integrations.
Salesforce Marketing Cloud
If you want a messaging tool with a ton of features, then Salesforce Marketing Cloud may work for you. You can publish emails, push notifications, social posts, and more. 
Read More: Mailchimp Alternatives For Your Jobs To Be Done
Optimize
Project Planning
Organizing projects goes a long way in helping your marketing teams work efficiently and effectively. When assessing your options, look for tools that can integrate with your research, feedback, CRM, and messaging platforms. 
Here are some tools to keep all of your ideas and strategies in one place. 
Trello
Trello lets your teams organize projects as boards, lists, and tasks. These features make it easy to review all priorities from a high level, as well as easily drill-down to details in the same view. Plus, there are free plans. 
Asana
Asana is a project management app that lets your team assign tasks, check completion status, and even map multiple initiatives on a timeline view. They've also recently added automation features, which help organize routine tasks. Pricing for Asana is per user, per month if you have more than 15 teammates or want access to advanced features. 
Basecamp
Basecamp splits each project into a few essential categories, including discussion boards, to-do lists, documents and files, automatic check-ins, and more. Being able to chat and store information on a single platform consolidates information. Basecamp Business is $99 a month for unlimited users. 
Honorable Mentions
Data Integrations
The tools highlighted below help you consolidate user information and share data across teams and marketing tools. 
If you've dreamt of being able to use insights from one marketing channel to influence another, these tools will be your best friend. Most of these tools, with the exception of Zapier, will likely require some help from developers to get set up. 
Segment
Segment is a platform for creating a unified data source across teams. Marketers can use any of the 300+ connected tools, such as Google Analytics and Facebook, to create a single customer view on Segment. 
Stitch
Stitch is an open-source platform to help teams connect their data sources and favorite analysis tools. 
Snowplow
Snowplow is a data collection platform that puts real-time customer data at your marketing team's fingertips. 
Zapier
Zapier is an automation platform that you use to connect apps and automate your workflow. Using the app eliminates repetitive manual tasks so that you can do more in less time. 
Webhooks
A webhook is a way for your separate apps to communicate. By setting up these automations, you can seamlessly use data and customer interactions across your marketing stack. 
How to pick the right full stack marketing tools
We've narrowed down your martech options from 7,000+ to a little over 20, but that might still be a bit overwhelming. Here's how to evaluate every tool for your company's needs. 
Budget
Budget can be a significant deciding factor for companies, especially if you'll be paying for a handful of separate tools each month. When you start to consider what your monthly budget is, set a benchmark for how many users or usage volume you'll need. By clarifying to what level you'll need to use a tool each month, you can accurately compare across options. 
Skillset
Don't forget about the end-user when evaluating a new tool. How tech-savvy are they compared to what the app requires? While some tools need help from a developer to set up APIs, others have easy drag-and-drop functions. 
Current tools
What tools do you have now, and what capabilities do they have? You may be able to take advantage of unused features in your existing stack to fill gaps. Make sure that the new apps you're considering integrate with your current stack. 
Goals and objectives
Nobody wants to pay for an app that collects dust, so make sure new additions align with your current goals and objectives. By this, I mean focus your attention on tools that lie within the stage you're focused on improving. Is your company trying to increase acquisition, engagement, or retention right now? Are there individual departments or channels that are having a harder time with tools? These questions can help you prioritize. 
Industry
Are you in an industry with special considerations, such as extra security in financial services? If so, you may want to look at niche martech companies. For example, Spotio has project management tools tailored to field sales reps specifically. If you want to use a more generalized tool, you'll just need to stress test your options against your unique needs.
Expert outlooks on marketing stacks in 2020 and beyond
Your workflow will be frustrating at best and useless at worst without integrations. Kevin White,  Head of Growth Marketing at Segment, says to choose tools that can work together. 
"Go with tools that are API first. With 7,000+ tools on the market, you're never going to find just one that does everything you need. Every tool in your stack needs to talk to each other and play nicely."

– Kevin White
Do more with data with personalized experiences
The benefit of collecting and integrating user data is putting it to use for personalization and segmentation. Jennifer Pepper, Head of Content Marketing at Unbounce, states the importance of using data to understand the context in customer interactions. 
"For 2020, we're ultimately looking to ensure that our data is flowing properly throughout the customer journey and helping us fuel decisions. We want all our tools to talk to each other to get more complete consolidated pictures of what's really happening from discovery through to customer experience."

– Jennifer Pepper
Consolidate your strategies and stack
Jennifer Pepper of Unbounce also advises you focus on quality over quantity with your tech stack. 
"Consider how you might consolidate your tech stack. There's always overlap as tools become platforms and expand their capabilities."
Consolidating your marketing stack doesn't mean every company will use the same few tools or app categories. Instead, focus on the strategies, channels, and tools that deliver the biggest impact. Since each company has its strengths, we covered a variety of marketing tools to help you out. 
Customer behavior should drive marketing
Kevin Alansky, CMO at Higher Logic predicts that "intent-based" marketing will be impactful in 2020.
He shared that:
"We will see an increased realization among organizations for the need to engage more deeply with their customers. Customers will demand that relationships with organizations feel less transactional and more mutually beneficial. It will be important to look at intent-based marketing to deeply understand customer behaviors and their intent to purchase."
What does intent-based marketing mean?
To put it simply, don't think about each marketing channel or interaction in a silo. You should be thinking about all of the actions a customer takes, and why, and then using omni-channel marketing to drive those engagements.
Adding to or adjusting your marketing stack can seem daunting, but it doesn't have to be. By taking time to think about the customer lifecycle and where your priorities lie, you can pick apps you'll actually use (and love). 
Are you looking to add scale personalized customer messages across email and SMS? Learn more about Vero here.
---
Want to send more personalized mobile and email messages to your users?
Check out Vero, customer engagement software designed for product marketers. Message your users based on what they do (or don't do) in your product.
Learn more about Vero and consider signing up for a free trial. No credit card required.