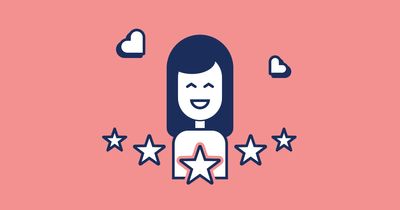 Customer experience management: A starter's guide
Let's say someone asked you if you thought your company was meeting customer expectations. In all likelihood, your answer would be yes.
Fact is, if you don't have the proper frameworks and tools set up, it's very hard to evaluate your customer experience performance.
Without these frameworks, it's impossible to truly answer the question: "Am I meeting my customers' expectations?"
While we may accept that our business' customer experience (aka CX) isn't perfect, we probably think it's at least decent. And there's evidence to show that this view is quite common in most companies.
According to Bain and Company, 80% of companies believe that they're meeting customer expectations. 
On the flip side, only 8% of those businesses' customers actually agree.
In fact, poor customer experience (CX) costs U.S. companies approximately $136.8 billion per year in preventable churn.
There's a delivery gap that exists between what companies think they're providing, and what their customers are actually getting.
And it's because of this gap that there's a mounting interest in managing customer experiences more effectively.
In this article, we'll cover what customer experience management (CEM) is, why your organization needs it, and how you can implement it.
What is customer experience management?
Gartner defines customer experience management (CEM) as the practice of designing and reacting to customer interactions to meet or exceed their expectations, leading to greater customer satisfaction, loyalty, and advocacy.
CEM looks at every interaction between a business and it's customers at every touchpoint, with the goal of improvement in mind to create more value for both parties.
It covers everything from users interacting with your website, buying an item in your store, raising customer support issues, to receiving resolutions.
Why is customer experience management important?
As a result of increased competition, technological and social change, the benchmark for great customer experience is now higher than ever.
Research shows that 33% of Americans will consider switching businesses after receiving poor service once. And 75% expect help from customer support within five minutes, and require the experience to be consistent across any channel.
Managing consumer needs can be a huge challenge, but it also creates opportunities for organizations that can meet them.
For example, U.S auto insurance carriers that provide customers with best-in-class experiences generate two to four times more growth and 30% higher profitability than those with an inconsistent customer focus.
This is mainly because satisfied customers are 80% more likely to renew their policies than dissatisfied ones.
Companies that offer consistently great customer experiences have more loyal customers, an easier time selling, and tend to spend less on marketing and support.
To figure out how to improve CEM in your company, we'll start by clearing up some key concepts related to CEM:
Customer data management: How your business manages customer information. It's the collection, analysis, and usage of customer data within an organization.
Customer journey mapping: A visual representation of the business touchpoints a customer has along the buyer journey.
Integrated marketing communications (IMC): The process of unifying all customer communications across every platform.
Improving customer experiences with the 'three Ds'
According to Bain and Company, companies that consistently provide winning customer experiences have three things in common— the three Ds:
1. They 'Design' the right plan
In other words: Shift your focus to creating customer advocates, not finding more customers.
CX leaders focus on creating customer advocates, not just generating new business. The wrong goal will always drive the wrong results.
Here's one thing that sets CX leaders apart from the rest of the crowd. They don't only focus on how profitable certain customer segments are, but they also look at it's tendency to create advocates for the company.
The ultimate goal of CX leaders is to turn more customers into high-value advocates.
Essentially, they're shifting the goal from "we need more customers" to "we need more customer advocates." 
Getting customers is easy, but turning them into loyal advocates requires more work and an overall consideration of the entire buyer journey vs. just customer acquisition.
When the goal shifts from acquisition to advocacy, so do the offerings needed to move customers from first purchase to referral.
CX leaders recognize this and create systems that ensure their customers are getting value accordingly.
2. They 'Deliver' value to the customer
In other words: Engage and empower the full organization to think in terms of customer advocacy.
CX leaders also have systems in place that ensures that everyone from sales, marketing, support, and even supply chain management can deliver on the value promised to customers.
Having a great product offering isn't enough. Your product is just a part of your business, and ensuring that customers have a great experience requires everyone to get involved.
Any successful CX initiative has to start from the top and then trickle down to the entire organization.
That means there has to be buy in from the C-suite to get all departments working together. CX isn't just customer support or product development's responsibility, it also reaches marketing, sales, and oeprations. 
3. They 'Develop' the capabilities to do it again and again
In other words: Find ways and implement technologies to track what works, and do those things again and again.
CX leaders understand that they have a mandate to improve the customer experience constantly.
As technology improves and as customer preferences change, the customer experience should also be redefined.
Customer centric organizations do this by:
Using tools to track customer sentiment
Having a standard operating procedure for customer interactions
Appointing stakeholders that bring the voice of the customer into business decisions.
Implementing the three D's
Becoming a customer experience leader requires you to reimagine how you interact with customers. This usually means incorporating or building new systems and tools that allow you to scale your customer experience efforts.
Here's how to start implementing the three Ds across your organization today:
1. Understand your customer touch points
The first step to designing an effective CX is knowing who you're selling to and exactly what they value, so you can create better propositions.
Some tools and frameworks to help with this:
A customer journey map: This helps you visualize all the touch points that a customer engages with as they interact with your company.
Keep in mind that a customer journey map is only a model of reality, and like all models they're not 100% accurate, because you can only predict the real world with a limited degree of certainty.
Here's an example of a data-driven customer journey map from BrightVessel:
2. Invest in customer data and research
Once you understand the customer and the lifecycle of their interactions, you need to put together a plan to collect feedback to make meaningful decisions.
Customer feedback can come in many forms. It can be as simple as sending a survey through email to your customers, but it can also be phone calls or via in-person interviews.
One thing to note is that you shouldn't restrict feedback only to current customers.

You should also try to get feedback from past customers or potential customers that never ultimately purchased or converted.
Things you might be curious about:
Why did they churn?
Why didn't they buy?
What stopped them from converting?
Here's a really simple, direct example of an email looking to get feedback from Nerd Marketing:
Webinars are a very important part of the customer journey for Nerd Marketing, since people who take part in it are more likely to buy.
It's an important touchpoint and Drew's trying to understand what stops people from joining. Insights like this can really help you counter the friction points customers face along the buyer journey.
The above email is just one example of how you might gather customer data. You can also get data from support interactions, sales calls, and surveys.
But collecting data isn't enough, you also need to be able to organize and interpret it to gain useful feedback.
It's easy to be overwhelmed by the feedback you're collecting as making sense of it is critical.
Tools such as ProductBoard help teams centralize, categorize and organize their customer feedback to make better decisions and build a better product or customer experience.
Whether you're building software, designing tables or crafting a complex customer experience, a system like ProductBoard lets you determine the key features and use cases important to your customers.
You'll also be able to rank the feedback you receive against each of those features or use cases.
If you're not looking for a purpose-built system like ProductBoard, Airtable and Excel are viable tools in which you can build a prioritisation engine for your customer feedback.
3. Put systems in place to synchronize and deliver on your CX plan
As mentioned earlier, customer experience management is a cross-functional discipline and requires collaboration across departments.
This is why it's important to have integrated marketing communications in place. You can't scale customer experiences if departments are siloed. There needs to be a free flow of information for it to work.
All customer-facing departments should be able to access and make use of customer data because customers want their experience to be seamless.
For instance, a customer doesn't see your e-commerce store as being any different from your physical location, even though they might be run by separate teams.
But it goes beyond this and all parts of your business should be integrated. Ideally, a customer who calls your support staff on the phone should be able to pick up the same issue via email or on social media without a break in experience or context.
One retailer that's doing a great job of creating an integrated customer experience is Oasis. As a fashion brand, they understand that a lot of their customers are on Instagram and so they give them the ability to make purchases on the app:
And when a customer visits any of their retail outlets, they're met by sales people who can give them style advice and product information based on their online activity and preferences.
Finally, when shopping online, Oasis customers can choose to pick up their purchases from the nearest store if it's in stock, which is faster than having it delivered to your home.
To achieve this level of cross functionality you need:
Tools that enable all key stakeholders: marketing, support and product to see the customer data you have on hand.
CX tools that integrate with your core product experience so that all of your customer touchpoints feel aligned and consistent.
To involve your engineering team early, building scalable systems to manage the operational side of your product, marketing, sales and support strategies.
What does a modern 'CX stack' look like? 
1. A custom or off-the-shelf customer data platform
Segment is a popular platform-as-a-service (PaaS) for collecting, centralizing and distributing customer data across your marketing, sales and support tools.
Using an internal data warehouse built on Amazon's Redshift or Snowflake is increasingly popular to synchronize and leverage customer data.
Tools like Fivetran and StitchData make it easier and easier to centralize data from the software your teams use to interact with customers, supporting most popular CRM platforms and marketing tools.
2. Messaging platform that integrates with your product and supports a single view of the customer
Modern email marketing, or messaging, platforms like Vero are designed from the ground up to support a singular, 360 degree"view of the customer.
They're built to integrate with common customer data platforms and data warehouses and make it easy for marketing, product and support teams to create consistent messaging across your overall customer experience and product goals.
3. Support platform that enables account managers and support agents to service customers across multiple channels
HelpScout is a great fit for most organizations, making it easy to support customers on all primary channels, record notes. It also integrates with tools like Zapier to collect and aggregate customer data in nearly any tool you can think of (including ProductBoard, as outlined above).
Front is one of the most popular, and fastest growing, support tools. Supporting multiple channels and integrations, it is a support tool designed for teams delivering holistic CXs.
4. Regularly review and adapt your CX
As we mentioned earlier, the customer experience isn't static and without any plans to review and adapt, CX will likely fall by the wayside. Top customer experience organizations ensure that this doesn't happen by:
Using customer-centric metrics like NPS to guide company-wide decision making and as a benchmark for performance.
Appointing stakeholders who act as the voice of the customer, ensuring that customer input is taken into consideration at every step
Having periodic customer experience reviews that ensures the company's current direction is inline with their CX goals.
The way forward
As more businesses compete on the basis of customer experience, the benchmark for what makes a good experience will keep reaching new heights. Becoming a leader in this customer-driven landscape requires reiterating how things are currently done.
Any company that hopes to lead has to be customer-obsessed.
They have to ensure that they have the right offers for their customers, that they can deliver on promised values, and that they can do it consistently over time.
---
Want to send more personalized mobile and email messages to your users?
Check out Vero, customer engagement software designed for product marketers. Message your users based on what they do (or don't do) in your product.
Learn more about Vero and consider signing up for a free trial. No credit card required.