15 Customer Retention Emails to Help Reduce Churn
Customer retention emails are designed to help customers understand the value of a product, prompt engagement, and reduce churn rate.
In this article, we take a look at 15 examples of customer retention emails – Some are true retention emails in that they were sent after a period of inactivity with the product, while others are lifecycle emails highlighting features, products or events – both types, encourage engagement with a product or service.
Each of these customer retention emails:
are automated as part of a drip campaign;
are triggered as a result of behavior (or lack of behavior);
encourage me to get more engaged, or;
notify me of features, deals or events I would have otherwise missed.
Newsletters can accomplish some of the same objectives but they aren't automated. All true customer retention emails are smart – they are sent only to the people that need them, when they need them.
Improving customer retention emails
How do you know if users are at risk of churn?
Look for users in limbo. Users in limbo have completed one or more important actions – i.e. they signed up or created an account – but haven't made the jump to a happy customer. They might be stuck in a freemium plan, let a free trial expire or even forgot they were paying for your product.
After the initial welcome email, onboarding emails are used to encourage customers to engage and realize the value of the product. The goal of retention emails is to help users experience value from the product, regularly.
The following retention email examples are highly practical and actionable and meant specifically for users in limbo.
Calm: Stress-Free Design
The line between newsletters and retention emails can be blurry. That is especially true here. Calm's email could easily have been sent to their entire user base but I suspect they targeted me because I downloaded the mobile app and didn't complete the initial seven-day meditation program. They likely recognize my interest and are trying to encourage me to try a new meditation. Something fresh and different might stick, and that could lead to a new paying customer.
This email design offers lots of white space, which works well. Noise, chaos and clutter cause stress. Space and order promote calm. It makes perfect sense that a meditation app would utilize white space in their emails. It makes it easy for the recipient to focus on the key points and benefits, eliminating the overwhelming feeling that some emails create.
ClickInsights: A Product Demonstration
ClickInsights, a one-click email survey tool, has the opportunity to demonstrate how their tool works within their customer retention emails. Clicking a link tracks an event that can be used to trigger another email and record data about the user. This type of email can help new customers reach the 'aha moment'.
The message is short and sweet. Its purpose is primarily to give users an idea of how they could use the tool for their own marketing. The simplicity and plain text design make this message easy to read and respond to.
Disqus: In Between Two Actions
I received an email from Disqus after I had started the process of adding Disqus to a new site but never finished.
Disqus is likely tracking two events:
User clicks "Add Disqus to Site"
User registers new site
They can see who triggered the first event but has yet to trigger the second, meaning they send emails like this one encouraging those users to continue.
The email uses the 1-2-3 method to guide users through the process, which can seem overwhelming at first. By breaking the setup into chunks, it's easier for users to visualize the process and take action. I also love the orange "Still need help?" button that serves as a safety net for users who still aren't sure where to begin.
Dollar Shave Club: FREE!
If you create a Dollar Shave Club account but don't enter your credit card information, you'll soon be the recipient of several excellent retention emails.
In this email, Dollar Shave Club goes all-in with one of the most powerful sales words in the English language: free. The subject line and the entire body of the email stress the fact that you can try a razor for free. This is just the nudge new customers need to get over the hump.
The email does two other things really well. First, it uses a bold button with clear, friction-free copy – "Get Your Free Month" – to entice recipients to click. Then, it shows a picture of the box you'll be receiving. Nothing eliminates the anxiety of something new like a preview.
Elevate: Copywriting 101
Customer retention emails are the perfect medium for addressing resistance. If, for example, you know that some people believe your app is too complicated, use email to tackle that issue head on.
This is a common copywriting technique called the Problem-Agitate-Solve formula. On Copyblogger, Demian Farnworth explains the basics.
The formula works like this:

Identify a problem
Agitate that problem
Trot out the solution

Its applications are endless.
This is the tactic Elevate employs in this email. They identified three reasons that users abandon their app, then address them. Authenticity and empathy are key to pulling this off, which Elevate does elegantly.
We previously used this email to demonstrate the 1-2-3 method. Read more on that here.
Goodreads: A Formal Invitation
A few weeks ago, I organized my Goodreads account by making a list of books I've read and another of books I'd like to read. Goodreads took note of this, and when they ran a giveaway for one of the books my "to read" list, they triggered this email.
As an Amazon company, I'm not surprised that Goodreads builds these kinds of triggers into their product. While this may not initially strike you as a customer retention email, keep in mind that it's triggered, personalized based on my behavior and it creates engagement that otherwise wouldn't have happened.
As Jeff Bezos said, "We see our customers as invited guests to a party, and we are the hosts. It's our job every day to make every important aspect of the customer experience a little bit better."
Mission accomplished.
Grammarly: You're Missing the Best Part
This is a more traditional customer retention email. I created a Grammarly account but wasn't taking advantage of a popular feature, their Chrome browser extension. They sent this email to explain what it is, how it works and why I should install it. And it worked! I installed the extension and now use it every day.
By tracking events throughout your application, it's easy to see missed opportunities. And it's even easier to trigger messages to people who are missing out on valuable tools. I barely used Grammarly before installing the browser extension, and now it's a vital part of my writing process.
Grammarly alternates information with calls to action several times in this email. The bold buttons and succinct descriptions make for a compelling message. It's hard not to click.
Graze: A Proven Model
Graze explains exactly why I'm receiving this email. As a copywriter, I wouldn't always advise this approach but it's highly useful for the purpose of this post.
We noticed that you previously visited us at graze.com but haven't yet tried one of our handpicked snack boxes.
Still, the copy works since it guides me to the most important part of the message, the free food.
This is almost identical to the Dollar Shave Club email in that it includes the word "free" multiple times, employs a bold button to entice users to click, and shows a photo of what customers can expect in the mail.
That's no coincidence. If you're in the business of subscription boxes or e-commerce, take note of this strategy.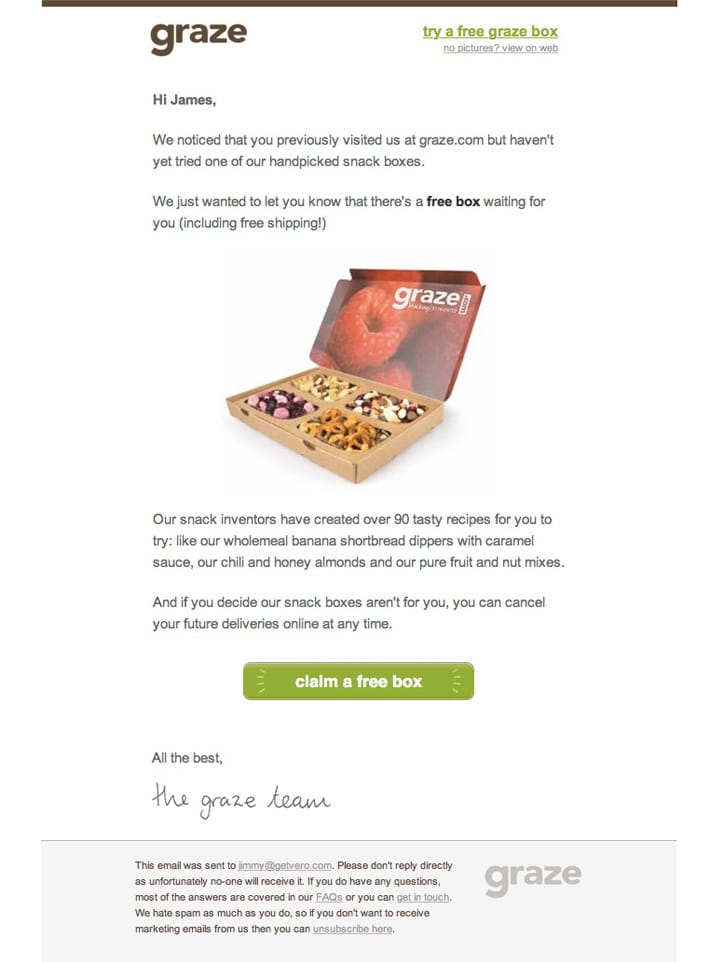 NPR: Compound Interest
Is this an onboarding, lifecycle or retention email?
It doesn't really matter to the recipient but it matters to us, the marketers. While I don't know exactly why this email was triggered, I do know that I downloaded the NPR One app on my phone and never used it. That means I triggered one event – the download – but never triggered the next – listening to my first track. I'm a user in limbo.
This gap is where customer retention emails shine, and it's the reason I love this message from NPR. Suggested content is the perfect way for NPR to poke around and see what really interests me. (Amazon and TripAdvisor do this all the time.) Once they know, they can send more personalized emails. This creates a compounding effect where every new email is more personalized than the last.
Pinterest: What's Behind Door #3?
Pinterest also uses the suggested content model. They send me this email every week, each with different topics. I'm not an engaged user, so they are mostly guessing based on the few boards I already created. The idea is to pique my interest, then get way more targeted.
They employ a few email best practices like social proof and buttons, but they also take the opportunity to explain what you can expect to see if you click. The psychology is very similar to Dollar Shave Club including a photo of the box.
At the 2014 Authority Intensive conference, Joanna Wiebe likened buttons to doors. They are much easier to click (or open) if you know what's behind them. Providing a preview or explanation adds important context that drives clicks. Pinterest does this with the blue callout – it explains exactly what these links are.
Read way more about this in Joanna's deep dive on Copyblogger.
Rogue: The World's Most Expected customer retention Email
Recently, I was browsing the Rogue Fitness website and found a hat I really liked. When I tried to add the hat to my cart, I was presented with this message:
Darn!
Still, I wanted the hat so I signed up to get a notification when it was back in stock. The stage was set for the world's most expected, relevant and contextual email. Sure enough, a few weeks later I received the email below and made the purchase.
This is some of the best email marketing out there. Rogue knows for a fact that I want this product. The email is not just expected, it's anticipated. I checked my email each day hoping it would arrive. And when it did, I took immediate action.
When customers can't wait for your emails to arrive, you know you're doing it right.
RunKeeper: Benefits, Not Features
There's a good reason why fitness apps have become so popular. They do two things really well:
Help users set goals, track progress and become healthier
Make users feel guilty when we don't exercise
There is a lot of emotion tied to self-confidence and body image. When RunKeeper emails their users to reactivate them, they are asking for so much more than logging data in their app.
RunKeeper faces an interesting challenge. If their users don't go out running on a regular basis, they have no reason to use the app. In order to keep user engagement high, RunKeeper actually has to focus on motivating people to exercise.
It's an enviable position in some ways. People know they should be exercising and they know that using RunKeeper can help them lose weight and run faster. Both parties agree that app usage is a good thing. Instead of begging users to login and use their app, RunKeeper simply reminds users that getting back into an exercise routine is a good idea. It's a perfect example of selling benefits instead of features.
SumoMe: A New Way to 'Sell'
"This is a report, not a retention email," you mutter as you scroll to the next example. Think again.
Personalized reports are one of the easiest ways into the inbox. These emails look and feel transactional, meaning that users open and read them without the fear of being sold to. I'm not suggesting you should use a Trojan Horse to trick people into opening emails, but you can use reports to "sell" in a different way.
One of the best ways to retain customers is to constantly remind them how valuable they are. Sending a report like this highlights that value in black and white. I got seven new subscribers on my site last week without lifting a finger, so I definitely plan to keep using SumoMe. Now that is customer retention.
TaskRabbit: Email Smarter to improve customer retention
Here's another email that doesn't immediately scream 'retention'. A closer look, however, reveals that's just the goal.
I signed up for TaskRabbit last year, checked it out but never actually used the service. Until I do, I'm in limbo – a segment of users who have expressed interest in TaskRabbit but never really acted on it.
Marketers should celebrate users in limbo. Signing up for a trial is a strong indicator that a person has genuine interest in your product. Never assume these people aren't the right fit as customers until it's been proven. The Internet is a busy place and it's easy to get distracted. Use customer retention emails like this one to bring them back.
TripAdvisor: Momentum
You didn't think I could make it through an entire post without using a TripAdvisor email, did you?
This is similar to the SumoMe report we looked at earlier but the psychology is different. SumoMe used the report to remind customers why the tool is so great. TripAdvisor uses the report to encourage users to pat themselves on the back for contributing to the travel community.
This email is designed to build on the momentum. TripAdvisor is rewarding me for good behavior, but you'll notice opportunities to leave another review scattered throughout.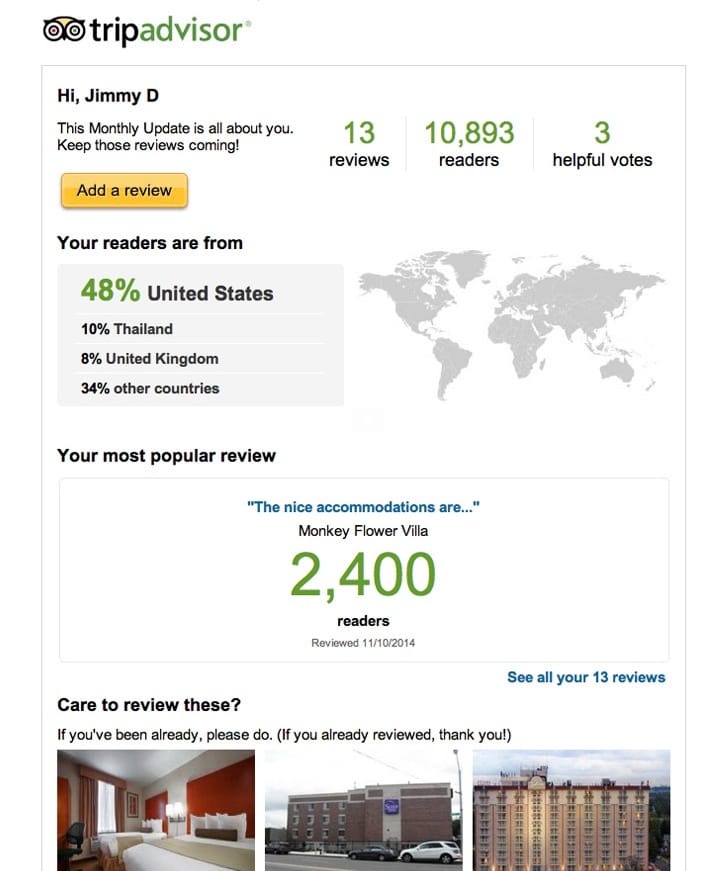 You may not be in the business of user-generated content but you can still borrow from this strategy by making users feel great about the progress and encouraging them to take the next step.
---
Want to send more personalized mobile and email messages to your users?
Check out Vero, customer engagement software designed for product marketers. Message your users based on what they do (or don't do) in your product.
Learn more about Vero and consider signing up for a free trial. No credit card required.