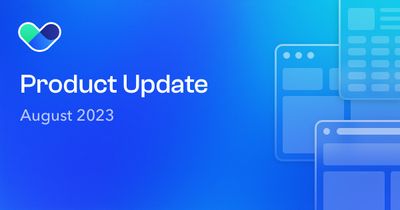 Product Update August 2023 – Triggers UI, download all logs + more
Hi folks 👋
Buckle up because we have a lot to talk about today. Our team has been working hard to bring you a treasure trove of exciting news, features, and improvements to deliver the best experience possible. Today, we'll not only be diving into the amazing things we've already released but also giving you a sneak peek into what's coming up on the horizon. We've been working tirelessly behind the scenes to bring you even more innovation and enhancements that will blow your socks off. So, grab a cup of your favorite beverage, sit back, and let's dive into all the juicy details!
Until next time.
---
Improved Campaign Trigger UI
With new new automation features coming soon, we have made some changes to how campaigns are created, adding a new "trigger" section for defining when to send the campaign. The usual options to send "Immediately" or at a "Specific date & time" have been relocated to this section.
This new pattern of choosing when to send your campaign up front will be especially useful when we add automated triggers in the near future. We have also implemented a review step to provide a clear overview before confirming the message. To streamline the user experience, we have also relocated the advanced settings to the content section.
These improvements aim to enhance the overall usability and are in line with our vision for a flexible and composable marketing platform, and make room for multiple different ways to trigger a campaign. Underneath the surface, these changes are built on an entirely rebuilt API that we plan to make accessible in the near future.
New Transactional Newsletters
We have added the ability to send to unsubscribed customers for messages that are transactional in nature. In situations where a business needs to facilitate a transaction or provide a product or service requested by the customer, there is now an option to 'send to unsubscribed users' as part of defining the campaign audience.
Improved
Show suppression date and reason on customer profile – There is now more information shown on the customer profile detailing when an email suppression happened and the reason why.
Fixed
Mailgun channel unable to be added – We've fixed the ability to add a new Mailgun email channel to your Vero account, which was presenting an error. This issue was only present for a short time and did not affect existing channels.
Can't close billing modal – Fixed a bug causing the full screen billing UI to stay open after adding new card details or when trying to exit using the close button.
---
New Download all customer logs
It is now possible to download all activity and email logs for an individual customer via csv. There is a new 'Download all activity' button on every customer profile, which downloads a csv containing the full customer history, up to 5000 rows.
Downloading the customer activity can come in handy when diving into a customer's interaction with your messages if you need to look beyond 30 days.
New 2FA status and 'Last seen'
Vero administrators can now view two-factor authentication status and information about when a user last logged on the teams page.Both of these features make it easier to secure your account and tidy up inactive or insecure accounts. We are also working on adding support for viewing which users "Sign in with Google".
Improved
Show suppression date and reason on customer profile – There is now more information shown on the customer profile detailing when an email suppression happened and the reason why.
Fixed
A/B Test "Finished" time not accurate – We've fixed an issue causing the "finished" time on an AB test in a workflow to appear as the current time, and therefore not showing the correct finished time.
Can't add custom social icons – Fixed a bug that prevented adding custom social icons in the drag and drop email editor.
CSV's with columns including the word "options" – We've fixed an issue that caused customer imports to fail if they included the word 'options' in a column title.
---
Coming soon Recurring Trigger
In just a few weeks, we'll be introducing the first type of automation within Vero Connect. With the new 'Recurring trigger', you'll be able to send automated messages by defining an SQL query to fetch the right users to message, then setting a frequency at which to periodically run the query and send the message.
Imagine you want to send weekly customer satisfaction surveys to a targeted group of users who have recently interacted with your support team. With the 'Recurring trigger' feature, you can define an SQL query to identify these users based on their support ticket history or specific criteria. Set the frequency to 'weekly' and send a message pointing them to your survey. Once enabled, the system will automatically send the survey to the identified users every week, ensuring consistent feedback collection without manual effort.
Recurring messages is just one type of automation we have coming – we have many more automation triggers in the pipeline! Stay tuned for more updates as we continue to enhance our product and bring you even more powerful automation tools.
---
Preview Public API
Earlier in the year we mentioned that we're working on a brand new public API and are building every new feature on top of this API behind the scenes. Today we're offering our first sneak peek at the API by sharing our documentation for some of the key endpoints. We would love to hear your thoughts and feedback about any aspect of the API, and are really interested in hearing how you would use it. While this API is not available to use yet, we hope it gives you a sense for what is coming. First access will be available later this year.
Read the preview documentation
---
Latest from the blog
We've fixed an issue that caused customer imports to fail if they included the word 'options' in a column title.
Growth. It's the number one priority of almost every business and the number one thing that executives strategize in board rooms. After all, if you can't grow, your profits will stagnate, and your business will lose relevance. In this article, we'll delve into the world of growth loops and how they can take your business to new heights. 
Mastering Product Messaging: How to Get It Right
To get the most out of your product messaging, everyone in your organization needs to rely on clear, consistent product messaging. Without it, it's harder for customers to understand why they should choose your product over others.
So, let's talk about how to do it right…
---
Want to send more personalized mobile and email messages to your users?
Check out Vero, customer engagement software designed for product marketers. Message your users based on what they do (or don't do) in your product.
Learn more about Vero and consider signing up for a free trial. No credit card required.