4 Data-Driven SaaS Onboarding Emails You Should Be Sending
This article is adapted from our recent webinar with KISSmetrics. Watch the video presentation here and check out the slides here.
"Having a poor onboarding experience for your customers can pretty much kill your growth … if not your business."
That's our friend Lincoln Murphy talking about the importance of onboarding. It's that important.
Customer onboarding pairs nicely with behavioral email since it's easy to control what messages users receive and when. All of it can be data-driven which is a radical improvement over time-based autoresponders. Additionally, dynamic segmentation allows SaaS businesses to completely automate onboarding without worrying if users will end up with irrelevant emails in their inbox.
What is customer onboarding?
The process of getting customers from "first touch" to "first value" as quickly as possible.
A series of small conversions leading to a bigger, more significant conversion
The removal of barriers to entry in your product/service.
At it's core, onboarding is a product challenge. Email helps you communicate value. It can trigger the "light bulb" for new users. But product and marketing have to work together to ensure new users hear a consistent message.
Here are some great onboarding emails that you can use in your own marketing.
1. The Welcome Email
The purpose of the welcome email is to:
Build on the momentum of the signup
Move users to the next step, not the final goal
Set the tone for their experience
Every welcome email should have a specific goal (in addition to saying "hello"). Here are a few example goals:
"Complete your profile … "
"Create your first X … "
"Import your data … "
"Download the app … "
Example #1: SumAll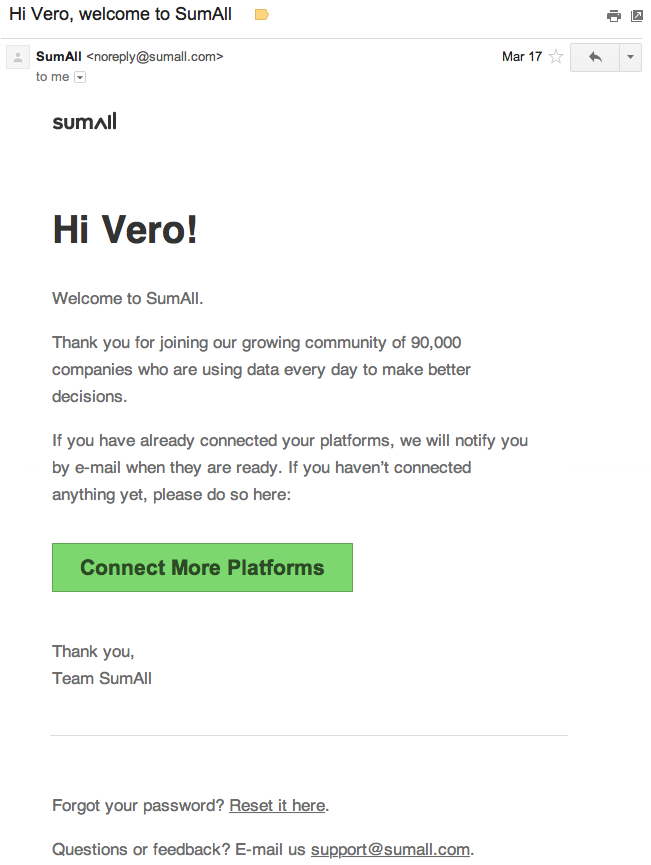 Why This Email Rocks
Simple, clear and bold
Connecting a new platform to SumAll means they can start collecting data and therefore create value for users
Contrasting button, friction-free copy
Highly focused with a single call to action
Example #2: Basecamp
Why This Emails Rocks
The email is a simple catalyst to get new people logged in
Basecamp is confident that the product will sell itself
It employs social proof to make users feel like they will miss out if they ignore the email ("You've joined over 1,500,000 organizations just like yours … ")
2. The 'Quick Win' Email
The purpose of the "Quick Win" email is to:
Get new users engaged with your product
Introduce them to features you know people love
Move them from the inbox to the app as efficiently as possible
The best "Quick Win" emails don't try to do too much. Remember that a series of small wins can have a large cumulative effect.
Try to focus on benefits of your product, not the features
Link deeply – If the CTA is to "create a new x", link them to the exact page
Use data to ensure you aren't asking people to do things they've already done (this is the issue with autoresponders)
Example #1: Pinterest
Why This Email Rocks
Very useful feature (remember, onboarding is largely a product issue, email is just a catalyst)
Piques interest with education, which tees up the CTA
Includes an example and a deep link to create your own
Example #2: Raven Tools
Why This Email Rocks
Knowledge is power – the more users understand your product, the more value they'll get from it
Getting users engaged early creates a habit of conversion – they get used to clicking your emails and engaging with your brand
They make it easy – look at the copy:

"Quick, guided training on your schedule"
"free, live training"
"variety of class times to accommodate you"
3. The Milestone Email
The purpose of the Milestone email is to:
Reward people for good behavior
Reinforce the value your product is delivering
Build on the momentum by moving them to the next step
The key to Milestone emails is making the recipient feel great.
Use upbeat, positive copy to make users feel great about using your product
Use micro CTA's to deepen your relationship (refer a friend, follow on Twitter, check out our blog, etc.)
Example #1: Evernote
Why This Email Rocks
Rewards engagement – makes the user feel good about it
Moves users to the next step by explaining advanced features
Arrives with context – it's triggered as a direct result of my behavior and comes almost immediately.
Example #2: Canva
Why This Email Rocks
Gamification is a way turn behavior into habit
The imagery makes it clear there are move achievements to be unlocked ("I want the 20 designs trophy!")
Micro CTAs – Social media sharing cements a users' commitment to your product
Even more micro CTAs – Blogs and social media can inspire and motivate users to engage more
4. The 'Hail Mary' Email
The purpose of the "Hail Mary" email is to:
Get as many trial customers to convert as possible
Improve the ROI of your top-line spend
Encourage users to try new features and/or experience your product again
Example #1: Help Scout
Why This Email Rocks
This email actually worked and is how Vero became a Help Scout customer.
It was sent 5-6 months after my initial trial expired.
A decent offer, a simple CTA with a simple next step.
They use social proof – see quote.
It's super clean.
Example #2: Sprout Social
Why This Email Rocks
There are clear reasons to come back: Sprout highlight new features and/or feature I may not have seen.
The process I have to take is three simple steps and gets me to log back in (means they didn't delete my account, that's nice of them 🙂
It looks and feels personal. I could definitely hit respond and ask questions or share concerns: great for both Sprout and me.
How to get started with triggered onboarding emails
Ask customers to go on a second date, not get married.
Define success and map out the steps to get users engaged, committed and 100% onboard
Track data with tools like KISSmetrics and make your emails as specific as possible based on their behavior
Use tools like Vero for dynamic segmentation and highly personalized emails
Avoid time-based sequences – the chances of sending an irrelevant email are very high
Check out the video presentation to hear the live Q&A and check out the slides here.
---
Want to send more personalized mobile and email messages to your users?
Check out Vero, customer engagement software designed for product marketers. Message your users based on what they do (or don't do) in your product.
Learn more about Vero and consider signing up for a free trial. No credit card required.