Post-purchase emails 101: What you need to know
Post-purchase emails continue building the relationship after the sale, and can do a lot to inform how a customer feels about your company's experience. It's worth the little extra work. 
The sale doesn't end at checkout
Post-purchase email campaigns are the sequence of messages you send after a customer has submitted an order. They span from: immediately after checkout, through delivery, and initial thoughts on the product. 
Here are a few reasons why post-purchase emails deserve your time and attention. 
They keep customers informed. Just because making orders online or signing up for a new subscription service is commonplace, doesn't mean trust isn't involved.
Each time a customer makes an order with your company, they trust that you'll deliver.

If you go silent after a purchase, customers may feel like you've taken their money and run.
There's also plenty of vital information you need to share after a purchase. Customers want to know their shipping status, and what to expect from the returns process. Plus, post-purchase thank you emails are a great opportunity to further the customer relationship.
Tell customers what the best next step is, such as downloading your app or signing up for text alerts. In the example below, Airbnb tells travelers to check house rules and find activities for their trip.  
They make waiting easier. Consumers in the age of Amazon are spoiled, and we all want fast shipping. In fact, almost half of all consumers expect businesses to keep up with Amazon.
However, super-speedy delivery just isn't possible in all businesses. So in the meantime, you can send updates and build anticipation to make the waiting a little easier.
They encourage the next sale. Just over half of consumers have made an additional purchase from a company after a positive customer service experience. That means if you play your cards right in the post-purchase timeframe, you could be setting yourself up for another sale. 
The post-purchase email sequence you need
Order confirmation
Order confirmation messages are the first, and likely most common, post-purchase email. This transactional email goes out as soon as checkout is complete, and should include details about the order such as: order number, items purchased, cost, and how to contact the support team. 
While the order confirmation email is mainly about building trust and letting customers know their order went through, you may also cross-sell or introduce referral opportunities. 
For example, Etsy uses its order confirmation email to highlight the shop and additional items. The message has vital information about the order and sets expectations with its three-step timeline at the top.
There's also an incentive to make another order since the email indicates you'll receive free shipping on the next purchase.
Automate it
Sending order confirmation emails by hand isn't an option as customers expect them right away. If you want to use your post-purchase emails to present a cross-sell item, make sure it's customized based on the order.
If you recommend a product that's for a completely different audience segment, or one that's identical to what they've just ordered, it'll look like you're just suggesting products at random as a money grab. 
Top Tip – create great-looking order confirmation emails with this free, easy-to-edit order confirmation HTML template.
Shipping confirmation
Most shoppers (83% to be exact) expect regular communication about their orders, which is where shipping confirmation emails come in. These messages keep customers up to date on the movement of their order and begin the countdown to delivery.
Be sure to include tracking information if it's available, or at least an estimated delivery date.
Fitbit uses humor to relate to the customer, letting them know they don't need to "camp out at the mailbox," since they can use the tracking code to get updates. 
Shipping confirmation emails are also opportunities to build anticipation for the order through content. Polaroid, for example, links to their FAQ page so that customers can get up to speed on how to use the product before it arrives. 
Automate it
If you're sending educational content, make sure it's related to the product purchased. By sending targeted information, you can help customers make the most of their new product or subscription.
Plus, 78% of consumers have a higher purchase intent when a brand sends them personally relevant content. 
Relationship building
While there are plenty of technical details to track in post-purchase emails such as shipping notifications, there's also time for relationship building.
After a customer has made a purchase, you can send out emails to invite them into the community, and share helpful and educational content.
Makeup brand ILIA takes the time to celebrate customer choices with the subject line "You Did Good." The message isn't promotional, and instead focuses on the customer's perspective and accomplishments. 
The company goes on to educate customers on how to use their recent purchase. The subject line "How to Use Your New Multi-Stick" is clear and compelling, especially since it's personalized to the item the customer actually bought. 
Automate it
You can use dynamic content in your shipping confirmation emails to excite, educate, and inspire customers. For example, a cookware brand could share recipes that use the items purchased, or clothing retailers could send outfit inspirations from similar styles. 
Top Tip – roll out the welcome mat with this easy-to-edit, free welcome email template. 
Review request email
Customers are willing to spend 31% more on a business with excellent reviews, so you should aim to gather as many as possible. After a customer has had time to use your product thoroughly, you can send a review request email. 
Here's a handy guide for when you should ask for a review:
Standard ecommerce – wait two weeks after delivery to ask for a product review. Setting up a two-week delay in your email workflow makes this process automatic. 
Rental ecommerce – wait until the rental item has made it back to the warehouse and completed its QA check. A successful item return can be set up as an event to trigger your email. 
Subscriptions – wait until a customer has received two subscription boxes, or the equivalent of two months since subscribing. Workflow rules prevent you from accidentally sending time-delayed review emails to customers who have churned.
Your post purchase follow up email can either have a simple 1-5 scale rating system, or include links to review sites such as your Facebook, Google, or Amazon page. Remember, the fewer clicks the better, so make leaving a review as straightforward as possible. 
In a battle of the bedtime companies, Casper and Tuft & Needle send slightly different review request emails. 
Casper includes the exact item purchased, just in case the customer has forgotten. They request a written review and let the customer know how helpful it would be to the company. The mattress company also uses the review request email to introduce a referral program.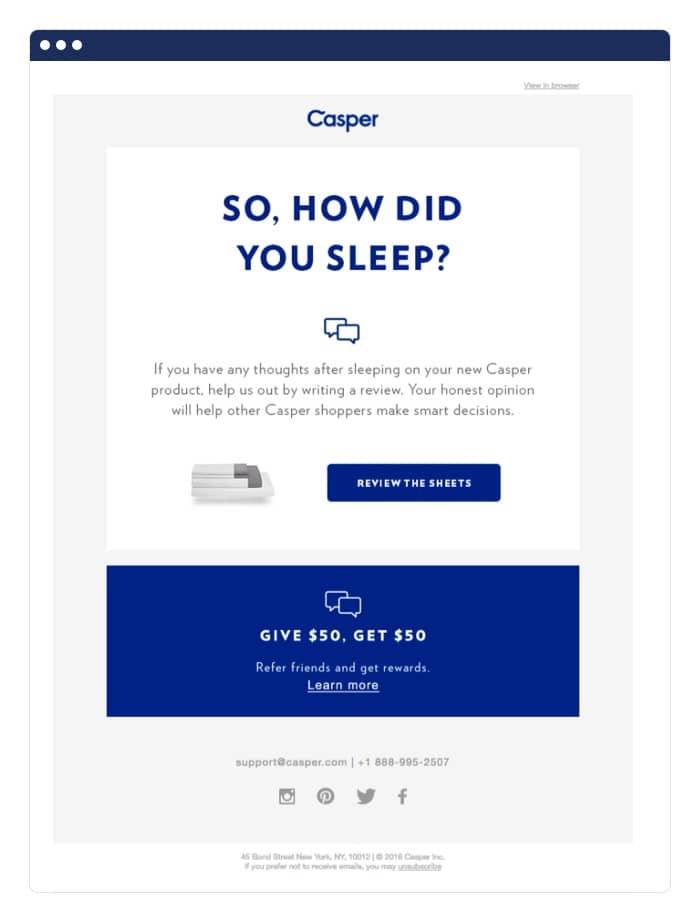 Tuft & Needle, on the other hand, uses an NPS survey to gather feedback. A simple 1-10 scale within the email is simple for customers to interact with, and then they can follow up with promoters for more detailed reviews. 
If you select a high NPS score, the company directs you to a page that asks what you like best about it. A low NPS score redirects to a comment box asking what was disappointing about the experience. 
Automate it
Even a message as simple as a review request email comes with automation and personalization opportunities. You can dynamically bring in the exact item that a customer ordered, or use a triggered event to send follow up messages to high and low NPS score users. 
Edit it
Engage with customers and request a review with this free easy-to-edit HTML review template. Ideal for getting reviews, gathering feedback, asking for referrals and requesting an action from your customers.
Discount to reorder
One customer order is good, but retaining a customer and having repeat purchases is even better. Getting personalized discounts based on their purchase history is important for 76% of consumers, so as always, personalization wins in discount emails. 
Overtone begins their discount-to-reorder email with the subject line: "Order again, get a complimentary full-sized Daily Conditioner." This works because the free product complements the original order, is exclusive to existing customers, and is limited by time to encourage action. 
If your company has a subscription component, you may want to use the first purchase as a stepping stone to a larger commitment. Rather than offering a discount on another one-time purchase, you can use this email to introduce your subscription.
Automate it
Like other post-purchase emails, a discount-to-reorder message can have personalized content based on user persona and purchase history.
Timing also comes into play with these messages, since you can create workflows to send discount emails at the cadence that customers are most likely to repurchase.
Post-purchase email best practices
Use dynamic content to send out relevant post-purchase emails
Dynamic content in email is a little bit like mixing and matching to get the perfect solution. By automatically bringing in customer data such as user engagement and purchase history, you can tailor emails at scale. 
For post-purchase email campaigns, you can use dynamic content to populate relevant cross-sells and content. 
How to do it
Liquid is an open-source language created by Shopify that you can use to dynamically update content on websites and in emails and mobile push notifications.
When you use Liquid in conjunction with Vero, you can replace elements in an email based on your user data. Want to learn more about Liquid? Check out our Email Personalization With Liquid guide here.
Prepare different post-purchase emails based on customer behavior
On top of customizing content within each post-purchase email, you can also optimize when customers receive emails. Some examples of custom post-purchase workflows include:
Having a different post-purchase email series for new and repeat customers
Tailoring messaging for each user persona or across psychographic segments
Sending a reminder if a customer has gone longer than their regular order cadence
How to do it
There are three marketing automation components to consider when you're ready to set up your different post-purchase email sequences.
"Triggers" are the event that sets the post purchase email automation in motion, "rules" are the conditions to be met before sending, and "content" are your emails.
Setting up workflows in Vero Cloud is simple since you can drag and drop every step.
Build anticipation and community
Post-purchase emails are an opportunity to bring new customers into the fold and make them feel good about their choice. Use your emails to thank them and prepare them for what's ahead with related items, helpful content, and community inspiration. 
How to do it
You can use Fusion from Vero to bring customer data, wherever it lives, into your email marketing. You can insert dynamically-calculated product recommendations into emails, or send content related to their needs.
Sometimes less is more
In most cases, the five emails we covered today are the perfect amount of contact after a purchase. If you send too many emails, it can start to feel like nagging.
You may also want to pay attention to which promotional email blasts a new customer receives. Lastly, give customers some time with your product before you ask for feedback.
How to do it
Each time you set up a post purchase email flow within Vero, you can set up rules. These conditions help filter who will and won't receive an email, meaning you can fine-tune what each customer type and segment sees.
Timing is everything
Post-purchase emails should be timely and helpful, which leads to better customer experiences. You'll want to give a new customer's inbox some breathing room, but long stretches of silence may lead them to forget about you. 
How to do it
You can set up your post-purchase workflow in Vero, and they'll be delivered on schedule every time. If you aren't sure which emails and cadence work best, automated A/B testing does the heavy lifting to uncover data-driven insights.
A purchase is an exciting time for everyone. For the customer, anticipation builds until they get their hands on a new item. For the company, it's the beginning (or continuation) of a fruitful relationship.
By using a personalized post-purchase email flow, you can connect with each customer, and potentially secure additional sales.
Want to learn more about customizing emails at scale? Check out our guide to data-driven ways to personalize emails here.
---
Want to send more personalized mobile and email messages to your users?
Check out Vero, customer engagement software designed for product marketers. Message your users based on what they do (or don't do) in your product.
Learn more about Vero and consider signing up for a free trial. No credit card required.