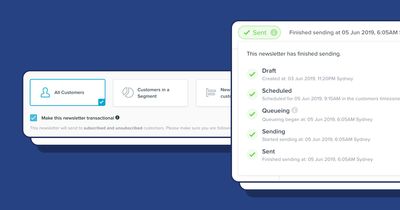 Transactional newsletters, better Logs and more
Over the last few weeks, we've been working to make your day-to-day tasks in Vero quicker and easier. We've released the functionality to allow you to send transactional email newsletters and improved Logs, timezone scheduling, and newsletter status reports.
Transactional Newsletters
You can now send newsletters to both subscribed and unsubscribed customers.
Transactional Newsletters allow you to send important, one-off communications that are required to facilitate a transaction or provide a product/service, as requested by the customer. For example, an update to your terms of service, or a change to your product or service that may affect your customers' experience or their requirements being met.
Ensure you understand and follow the rules and legal requirements for transactional emails before using this feature.
Faster, better, prettier Logs
We've revamped the Logs section to make it faster for you to find the data you're looking for, aligning the navigation with the rest of Vero. These updates make it easier to find a specific customer interaction (log entry) and understand why a contact did or did not receive a message.
You'll see changes on both the Logs section and the activity log shown on customer profiles.
Better scheduling for timezone newsletters
When scheduling a Newsletter and selecting the option "Deliver at this time on recipients timezone", you previously had to ensure you scheduled the Newsletter at least 24 hours prior to the selected time, in the first timezone (GMT+13).
Now, you can schedule newsletters right up until the selected time, in the first timezone. For example, if you wanted to send a newsletter to customers at their local time 9am, 1 August 2019, you can schedule the campaign up until 9am (GMT+13), 1 August 2019.
Newsletter status reporting
We've made it easier to see the status details of newsletters, with a clear report showing:
Draft – when the newsletter was created.
Scheduled – the time that you scheduled the newsletter to send.
Queuing – at the scheduled time, we will ensure all segments are up to date.
Sending – the time the first email sent, after all segment calculations were completed.
Sent – the time the last email was sent.
Our aim is to make sure you have as much detail as possible about what Vero is doing in the background.
Head over to your account to check out these latest updates.
---
Want to send more personalized mobile and email messages to your users?
Check out Vero, customer engagement software designed for product marketers. Message your users based on what they do (or don't do) in your product.
Learn more about Vero and consider signing up for a free trial. No credit card required.