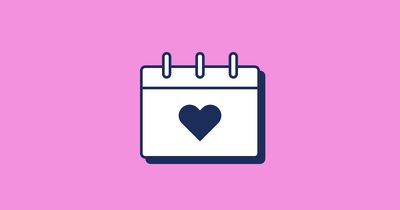 How to use anniversary emails to boost engagement
It's time to celebrate! Celebrate your customers, that is. Anniversary emails are a great way to engage with your audience, make them feel special, and have a little fun.
Oh, and personalization helped Vero customer HelloPrint boost their NPS scores by 35%, so it isn't all just fun and games.  
Why we love anniversary emails
Anniversary emails are a lot like anniversary or birthday cards—they're messages you send to those you care about on important dates. We'll review the different scenarios to use anniversary emails, but first, we want to share why we're so excited about these email automation campaigns. 
They engage users and boost loyalty
Engaged subscribers are good for business and deliverability as a customer that feels appreciated will likely have warmer feelings toward you.
Email marketing is relationship building, and anniversary emails are like remembering to send a "happy birthday" card or text to a friend.
When you boost open rates and click-through rates with personalized emails, inbox providers see that subscribers are happy to be on your list. And in the long term, higher engagement rates help with your sender reputation and deliverability. 
They're personalization opportunities
Since you're going to send anniversary emails based on a customer's timeline, they're automatically more personalized. If you write a custom email based on a customer's behavior or preferences, you've got a recipe for an exceptional email that will encourage readers to engage. In fact, while it's nice to thank customers and appreciate them just because, there is a business case for personalization. Our research has found that email personalization can increase click-through rates by up to 50%.
They're opportunities to stand out
Finally, we love anniversary emails because they're an opportunity to stand out. It isn't every day that someone celebrates a birthday or a milestone, and there's an element of delight and surprise if they aren't expecting a message to mark their anniversary with your company.
If your anniversary email is particularly clever or entertaining, subscribers may even share it with their network.
Anniversary email examples to celebrate
Purchase or Subscription
The first way to incorporate anniversary emails to customers is by acknowledging when they became a customer. DEV.to celebrates a subscriber's first anniversary by awarding them a "one year club" badge.
The anniversary email subject line "you just got a badge" is sure to pique curiosity. Inside the email, DEV.to recognizes the customer's "longevity" and rewards them with credits. 
Personalize it
You can celebrate when a person became a customer by looking back on how far they've come. Remind them of their first purchase, incorporate engagement stats, or ask customers to reflect on their time with you via social media or a survey. 
Birthday
Another anniversary (of sorts) that everyone has is a birthday! While you can use birthday emails to offer exclusive discounts, Hulu proves they're also winback opportunities. The email lets the subscriber know they're eligible for another free month trial. The message is short and lighthearted, and has a clear CTA. 
Personalize it
Adding your subscriber's name to the email is a simple way to personalize birthday emails, but why not take it a step further? Include imagery that matches their preferred product categories or industry, create seasonal designs, or birthday month-specific offers. 
Company
Why should customers get to have all of the fun—your company has a birthday, too! Care/of created an anniversary email for their company's first birthday to acknowledge their progress and thank the community.
The excitement begins in the subject line reading: "It's our birthday!" Inside, there are stats about the past year (some serious and some fun), and a promotional discount.
Personalize it
To include customers in your company anniversary email, personalize emails based on how long they've been customers. You can tell newer customers that you're excited to grow with them, and veteran subscribers that you couldn't have done it without them.
Year-end
While these data-driven personalization emails are great, they could fall flat without adequate user data. Disengaged users may be disheartened to see zeroes across the board on progress metrics, so consider having a backup email.
For example, LastPass has a year in review that focuses on the company's progress and thanking customers for coming along for the ride. 
Personalize it
Every company and industry has unique data it can use in year-end emails. Consider what stats will be interesting to your audience, and which will encourage them to keep going in the year ahead. You could even highlight different data sets depending on customer segments. 
Special holidays
When you're holding the reins on your email marketing program, you decide what's worth celebrating. In GoDaddy's case, they chose National Small Business Week as a time to honor. The tone of the email is uplifting and empowering, and basically one giant pat on the back for their community. There's no pitch—just a thoughtful message and some inspiration.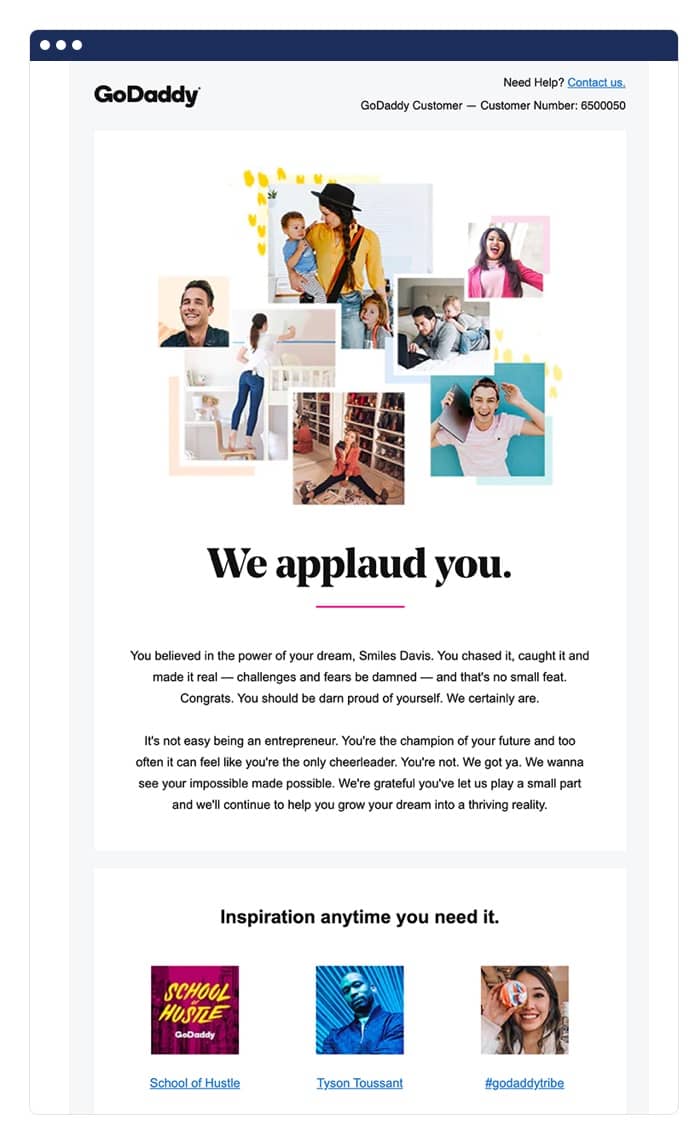 Personalize it
If you're celebrating something near and dear to your company and audience, consider including pictures of your team or success stories across different customer segments. 
How to rock customer anniversary emails
After reviewing the anniversary email templates above, the subject might feel a bit broad. After all, there are so many times you can celebrate and thank your audience. Here are some pointers to help get you started. 
Be sincere
Sincerity is essential all of the time, but even more so during a milestone. While you'll have the element of surprise on your side when you alert a customer that they've been with you for a year, birthdays are another story.
Your customer will have an inbox full of birthday emails, so take the time to optimize your content to make it unique, worthwhile, and sincere.
Acknowledge progress and milestones
All companies can highlight a customer's key moments in the past year, but services or SaaS companies have the largest opportunities. If customers are working with you to achieve a goal or make a change, anniversary emails are the perfect time to motivate them to keep going. 
For example, Shipt reflects on the customer's "biggest accomplishments" in the email below. The stats make the reader feel proud of the work they've done in the past year, and make them feel a part of a bigger community. These strategies paid off, since Shipt indicated this email was "forwarded to 471 people and had 231 prints."
Include offers
Every once in a while, it's nice to switch it up with a pitch-free appreciation email. However, anniversaries and celebrations are also a welcome time for gifts. Coupons, discount codes, free shipping, secret bonuses, or exclusive items are all options to consider. 
Optimize your send times
If you're sending emails about a particular time in a customer's life, you want to make sure you have the timing right. Time zone management helps you cater to an international audience, and collecting user information during signup helps with segmentation.
Are you juggling a global audience? Vero handles different time zones for all your users; you just need to select what time you'd like your message delivered.
A/B test your subject lines
A lackluster anniversary email subject line can bring your open rates down. Personalization helps subject lines, and you should bring the excitement from the email into the forefront. If the thought of planning and tracking email A/B tests overwhelm you, then Vero's automated A/B testing tool can take the weight off your shoulders.
While email marketing is undoubtedly a powerful revenue driver, it's also a great way to build and maintain customer relationships. Anniversary emails are a fun way to send personalized content and show customers appreciation. 
---
Want to send more personalized mobile and email messages to your users?
Check out Vero, customer engagement software designed for product marketers. Message your users based on what they do (or don't do) in your product.
Learn more about Vero and consider signing up for a free trial. No credit card required.