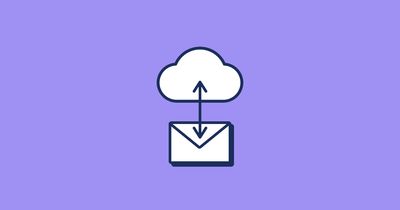 Email marketing for SaaS: What you need to know
It's time to sit down and revamp your SaaS company's emails, and you aren't sure where to start. Is email marketing for SaaS like every other industry?
For most of us, the emails we have the most experience with are the ones that end up in our mailboxes, possibly from retailers.
Many of the email types we'll explore will be familiar, such as newsletters or promotions. However, emails like onboarding are unique to SaaS. 
Building on your SaaS email marketing skills is easy when you take it one step at a time. Let's begin!
SaaS Email Examples Across 9 Core Categories
To make sure no critical SaaS email templates fall through the cracks, we've divided SaaS email marketing examples between essential categories. 
One of the ways that you can begin to sort out email marketing for SaaS is by considering when you send messages. All of your campaigns will fall into two groups:
Automated behavioral emails are messages that are triggered by an action a user takes, such as signing up for a trial or reaching an account limit. 
Broadcast emails are manually sent to larger segments of your list, such as for a product update or holiday. 
Now let's investigate the types of emails to send within these categories. 
Automated and behavioral emails
Welcome emails
Welcome emails are what they sound like—a message to invite new audience members into the fold!
When to send: Send a welcome email when a person signs up for a general newsletter, signs up for a free trial, or becomes a customer. 
What they accomplish: Welcome emails use the momentum of signing up to direct people into the next action. 
Examples:
Flock sends a welcome email to acknowledge a person who just signed up for a 15-day free trial. The company has identified that the next step a user needs to take is inviting colleagues, so the CTA is called out a few times.
The email also helps new users get oriented by pointing out the most-used features.
Trim also helps pave the way for what new users should do next. This email presents three options for how to get started. Setting up your welcome email in this way also helps you with personalization down the line.
By tracking which task link a new user clicks on, you can narrow down on the topics they're most interested in.
Read More: 21 Best Welcome Email Examples to Engage Customers
Onboarding emails
The early days of any company-customer relationship are important, but onboarding is especially crucial in SaaS companies for long-term engagement. 
When to send: Send when a person signs up for a trial or creates a new paid account. 
What they accomplish: Onboarding emails help new users build the habit of using your product by getting them engaged and educated. 
Examples:
Asana acknowledges the actions already taken and points users to the next step. This onboarding email focuses on educating the person on how to bring their team members into the system. If they want the quick version, they can consult the three-step checklist.
Or, they can dive deeper with a free course.
Meetup takes a similar approach by recognizing a person's prior actions. Their onboarding email empowers the user by telling them, "You're on track to creating something great." Then, Meetup presents three additional steps to "keep the momentum going."
Read More: Onboarding Emails
Activation emails
Sometimes, your onboarding emails fail to drive user action. If a person hasn't completed a key step to reach their "aha moment," you should send an activation email. This message prompts a user to take the step they've forgotten about. 
When to send: Activation emails are for users who aren't engaging. If a person hasn't completed a task or hasn't logged in for a while, send them a reminder. 
What they accomplish: Your goal with activation emails is to get a person to complete a task. These messages should jumpstart (or restart) engagement with your product. 
Examples:
Proof uses a progress bar to illustrate where a user left off. The activation email isn't judgemental or pushy. Instead, Proof asks how they can help. The company proceeds to explain how to connect accounts, and what results the customer can expect. 
Segment uses social proof in their activation email by letting users know what their successful peers do. The company also offers two resources to help users take the next step, and gives context about what other actions to complete. 
Retention emails
Maintaining a stable retention rate creates a more sustainable SaaS business, and brings more satisfied and engaged users. Here's how to influence retention via email. 
When to send: You send retention emails to existing customers, though there are different use cases. For example, you may send an email to boost activity from a dwindling account. Or, you can use them to guide users to unused features to achieve new results. 
What they accomplish: Retention emails focus on maintaining and increasing engagement. This is a broad category that you should personalize to meet users where they are. 
Examples:
Netflix uses a person's activity to suggest more content. Don't have a content streaming service? You can use this email as inspiration to suggest relevant blog content to customers, or highlight some features they may be missing. 
Read More: Retention marketing strategies that boost revenue
Upsell emails
Sometimes, a user account is going so well that an upgrade is in order. Upsell and cross-sell emails present additional features or plans to engaged customers. 
When to send: Timing is critical for upsell emails. Rather than sending these to everyone, target your most engaged users when they could benefit from additional features. These emails are also useful as an account reaches the limits of their plan. 
What they accomplish: Upsell emails are meant to grow accounts, so they should help users do more (while increasing your bottom line). 
Examples:
It's common for SaaS companies to offer discounts on some upgrades, particularly if they commit to a year. For example, Evernote offered users an additional six months if they paid for a year upfront.
You typically send an upsell email to a specific set of users when they're ready for an upgrade, but in this example, Evernote uses the context of gearing up for a new year to present the offer.
Freelancer uses a sticking point in the user process to present an upsell. The company recognizes that the user has set up a project, but hasn't hired anyone yet. Since this could indicate the user is stuck, it's the perfect time to present an upsell "recruiter" service. 
Winback emails
Winback emails help you rekindle a lost or dwindling user relationship by bringing customers back to give you another try. 
When to send: SaaS companies can send a winback sequence when a person fails to upgrade from a free trial to a paid account, after someone cancels their account, or when a user has gone dormant. 
What they accomplish: Winback emails aim to get users excited to use your product again. 
Examples:
If time has passed since a user has engaged or had an account with you, it's a good idea to get them up to speed on what they've missed. Clear's winback email below addresses that they've made processes faster and easier.
To illustrate the point, they include a mock timeline of what the person's life could be like if they came back to Clear. 
Dropbox also uses their winback email to point out what past users are missing. By including a resource like a template library, Dropbox makes it easier to get started again.
Rather than starting with a blank page, you can piggyback off of Dropbox to skip the first few steps.
Read More: Winback post
Broadcast emails
Product updates
Your product marketing team works hard to make your app bigger and better, and now it's your job to share that good news. 
When to send: Naturally, you send product update emails when there's an update. To make your emails even more impactful, consider targeting product marketing emails to the segments most likely to benefit from the upgrade. 
What they accomplish: Update emails keep your audience up-to-date with improvements, and boost engagement of new features. 
Examples:
Litmus launched a new version of the product, which is a big enough change to warrant every customer receiving the email. The message has social proof in the form of quotes, and Litmus highlights that the updates are a result of customer feedback.
Short emails can carry smaller updates, like the one from Current below. The message has a simple description of the upgrade's benefits, how it works, and what it looks like in the app. Then, there's a bold CTA button to "check it out."
Read More: 3 Tips for Better Product Update Emails
Newsletters
Newsletters are recurring broadcasts to maintain communication with subscribers and customers. 
When to send: Newsletters should happen on a set cadence, such as monthly or weekly. 
What they accomplish: These emails are perfect for letting everyone know about the latest content or company developments. 
Examples:
Knak sends one comprehensive newsletter a month that covers a variety of categories. Each newsletter has a theme, and then Knack shares related content, features, testimonials, and resources.
Asana also chose a themed newsletter in response to changing needs amongst the COVID-19 pandemic. The message starts with a letter from the Head of Community at Asana, and then highlights a handful of relevant blog posts.
There's also a general CTA for their entire resource library, in case you want to browse different topics.
Read More: Email newsletters: Why they're effective and how to create your own
Promotions
While promotions tend to happen more in eCommerce companies than SaaS, they aren't unheard of! 
When to send: Promotions could happen around product launches, public holidays, new partnerships, and more.  
What they accomplish: Use these emails to drive sales. 
Examples:
January and resolutions go together like peanut butter and jelly, and Skillshare uses that to their advantage. Since more people will be looking to level up their skills in the new year, Skillshare offers a discount to boost sales.
The message also includes social proof, as well as key benefits.
Coinbase also uses the holidays to send promotional emails. If offering discounts isn't your style, you can pull a page from Coinbase's playbook and highlight features or ways to give back. 
Read More: Promotional Emails: 33 Examples, Ideas, and Best Practices
Feedback
While quantitative customer data is useful, sometimes there's no substitute for asking for qualitative feedback or guidance outright. 
When to send: Consider what type of feedback you're looking for when planning your timing. Do you want to hear from highly-engaged users about what features they want next? Or do you want to learn why disengaged users aren't interested anymore? 
What they accomplish: Feedback emails help you identify promoters and detractors, and learn about audience preferences and ideas. 
Examples:
Refind uses a straightforward email to gauge what users are interested in. By prompting subscribers to choose hashtags to follow, the company can better serve them. You can also use this information to segment future content or promotional campaigns. 
Sometimes, you need customer feedback that goes a little deeper. Slack sent an email to users asking them to complete a short survey. For these emails, it's important to lay out why you're asking for this information and to set expectations on how long it will take.
Read More: How to Collect Customer Feedback with Email
Email marketing automation for SaaS companies
Step one is exploring SaaS email marketing templates of what a great email looks like across the customer lifecycle. Once you've checked out the examples and created a SaaS email marketing strategy of your own, you'll need access to the tools of the trade.
We've covered how to organize your marketing stack before, but how about a short refresher? Here are some email marketing automation tools your SaaS team can use.
Segment
Nearly every marketer can attest to the fact that more data isn't always merrier. That is, unless you can link data points for a fuller picture. Segment lets you connect 300+ tools, like Google Analytics and Facebook, into a single customer view.
From these connections, you can set up alerts that help you send targeted emails, such as when a user is reaching their account limits. Plus, it integrates seamlessly with Vero.
Zapier
Automating recurring tasks with Zapier lets you get more done. Connect Zapier to other tools in your stack to keep processes moving. For example, you can create a Zap to automatically add webinar attendees to your email list to streamline your lead creation efforts. 
Vero
It's easy to get multi-channel marketing flows out of your head and into the real world with Vero's automated workflows. You can also use this marketing tool to automate push notifications to meet users wherever they are.
ClearBit
ClearBit helps you leverage customer data to deliver personalized experiences. The tool identifies web traffic based on IP addresses, which you can use to customize the content they see on your site and the drip campaigns they receive. 
Madkudu
If you want a clear vision of how your marketing and sales efforts will impact revenue, try Madkudu. Their predictive analytics lets you know how a lead will pan out, which helps you prioritize lead nurturing and retarget your most valuable traffic.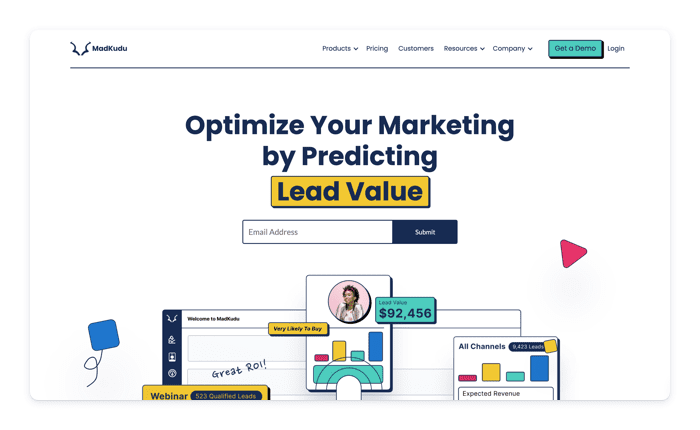 Pipedrive
Pipedrive is a CRM and pipeline management tool, but you can use it to automate lead nurturing emails. You can also use the tool's insights and reports to track sales activities and revenue. 
SaaS email strategy best practices
Find the right cadence. While you want to maintain communication with users, you don't want to bombard them. Make sure you're auditing the types and frequencies of messages you're sending out, and how they affect email metrics. Having an email preference center in place can help customers tailor their experiences, too. 
Use segmentation. There's no shortage of ways to segment your email list, as the graph from Clearbit below shows. Segmentation helps you deliver relevant emails to users, which boosts engagement and retention. 
A/B test for continuous improvement. At first glance, the idea that your work as an email marketer is never done is overwhelming. However, email A/B testing opens up a world of possibilities for constant improvement (which your boss will love). 
Automate messaging to scale up. You may be able to hand-send welcome emails in the early days of your company, but some tasks simply don't scale. B2B marketing automation keeps your messaging moving forward without constant, direct involvement. 
Consider context to understand user motivations. What's going on in your user's world can have a major impact on their actions, and how they receive your message. For example, it might make a wrong impression if you present a big upsell only a few days after a user has signed up for a paid account. Similarly, users who have already paid for a year may be upset if they receive an email about a new promo for buying in advance. 
Use benefits to drive action​. Your tools and features make it possible for users to move forward, but they're more focused on outcomes. How can you highlight benefits or results in your emails that inspire them to get started? For example, Litmus mentions the impact of each update in their customer's workflow. 
Consider how all of your marketing works together. While you're focusing on the silo of email marketing right now, your users experience your entire brand as one unit. Omni-channel marketing helps you deliver a cohesive experience across all channels.
Email marketing for SaaS is a diverse discpline that spans the entire customer lifecycle. While improving your program will be an ongoing journey, you'll get far by focusing on how to help customers with their goals. 
Want to explore more email marketing topics? Check out our guides here.
---
Want to send more personalized mobile and email messages to your users?
Check out Vero, customer engagement software designed for product marketers. Message your users based on what they do (or don't do) in your product.
Learn more about Vero and consider signing up for a free trial. No credit card required.