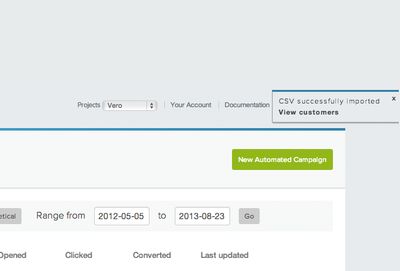 In-App Notifications, Cloning and Better Management
Check out some of the product improvements we've pushed over the last few weeks.
In-app notifications
One of the great things about Vero is that it does a lot of heavy lifting behind the scenes. One of the negative side-effects of this is that it can, at times, be difficult to see what is happening where!
We've released a notifications feature that keeps you up to date on important events. For example you are now notified when a CSV is fully imported (successfully or otherwise) and when segments are calculated.
Check out the new notifications (you can see an example in the featured image above) and let us know what else you would like to see.
Invoices and subscription data
You can now grab your invoices from the subscriptions page within your Account settings.
You can also upgrade to annual billing with the click of a few buttons.
The ability to 'clone' campaigns
You can now clone your campaigns completely.
Previously, you could only clone the filters (i.e. not the body content). If you had multiple variations or HTML templates these weren't copied over.
The new clone feature copies everything and will make creating new campaigns a lot faster.
Better team management
For those companies managing multiple projects you can now better add and allocate access rights for your team members.
Where previously there were issues managing the rights of individual accounts across more than one company things should now run smoothly.
---
Want to send more personalized mobile and email messages to your users?
Check out Vero, customer engagement software designed for product marketers. Message your users based on what they do (or don't do) in your product.
Learn more about Vero and consider signing up for a free trial. No credit card required.