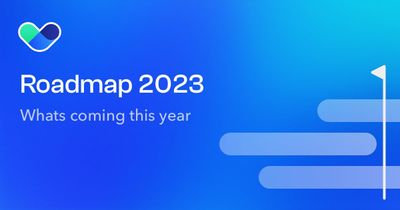 We are excited to share our 2023 roadmap with you, centered around three customer feedback-driven themes that bring us closer to realizing our vision and upgrading our platform:
Multi-channel. Reach your customers wherever they are, on any channel.
Better UX. You've shared that there are frustrating and unscalable flows in Vero's UI. We hear you and we've got big plans.
Flexible data storage. Load audiences from SQL data warehouses.
Throughout Q3 and Q4 2022 we've been quietly improving the foundations of our product: rebuilding some of our API and frontend. These were big challenges, with complex solutions. With this strong foundation in place we're in a position to deliver much more visible value to you in the coming year.
Read on to discover the specific features and projects we have in store in 2023.
Send messages on any channel
Today Vero supports sending emails and iOS and Android push messages. One of the biggest customer requests is to add support for more channels, such as SMS, browser push, in-app messaging, WhatsApp and more. 
In 2023 we are releasing "custom channels" to enable you to integrate Vero with any channel you can think of. 
If you are looking for support for more channels in Vero, we'd love to talk to you about what we've designed and your initial use cases so we can ensure a successful roll-out.
All-new automation triggers
This year, we'll be introducing all-new campaign triggers such as "Enters audience" and "Recurring Schedule". To begin with these triggers will support  audiences built on top of your SQL data warehouse: delivering a world-first warehouse-native automations solution. These triggers lay the groundwork for more triggers to come, adding flexibility beyond the "event triggered" automations Vero currently enables.
A brand new UI with new features for Vero Cloud
In 2021 we launched Vero Connect so customers could build audiences using SQL data warehouses like Snowflake and Redshift. 
We built Vero Connect on top of a new API with a brand new interface: it's much snappier, more enjoyable to work in and has been receiving rave reviews from Vero Connect users. 
In 2023 we're bringing features from Vero Cloud to this new API and UI. This means we will continue to provide the same great feature set from Cloud in a new and improved UI that works with your existing Cloud data. You'll also get new features that enable you to externally query data. 
Throughout the year we'll be re-skinning the features you know and love like Workflows so they're faster, more scalable and more enjoyable to use. This process will allow us to clean up long-standing UI frustrations, and make quicker progress on new features going forward, such as multi-channel messages and new triggers.
The roll out of the new UI will be gradual: Vero Cloud users will shortly be able to switch to the new interface and start using new versions of current features, switching back whenever you want to. We will continue to support our current Cloud UI, fixing bugs and making minor improvements but the goal is that, as soon as possible, you'll be able to do everything you need in our new, improved UI! We will be sharing up-to-date progress on this new UI, including all new features, via our new roadmap. See the bottom of this email for more details.
More ways to access data
With Vero Connect it's easier to access your customer data in more places, giving you access to your most complete and accurate data without another engineering project or data sync. This year we'll be adding more data sources. We're already working on MySQL and have sources such as Google Big Query and Airtable on the horizon.
Fundamentally better cost structure
Over the last few years we've come to serve B2C and B2B product-led businesses first-and-foremost. As these businesses generally offer free or freemium plans, B2C and B2B PLG businesses have big user bases with smaller active paying customer cohorts.
Vero has always been a low-cost solution when compared with our competitors. Despite this, we know that our current pricing model can still become expensive quickly for B2C and B2B PLG companies when charged "per subscriber". 
We're working toward a pricing model update that focuses more on "messages sent" rather than "subscribers stored". Our aim is to better align with our core customers' business models. Introducing controls that allow you to choose the amount of data you want to store with Vero will help us deliver these changes alongside the new features we've released for connecting to SQL data warehouses.
We want to put you in complete control of your marketing expenses so you can focus on delivering effective campaigns without breaking the bank.
Public API
In 2022 we rebuilt some of our core API. In 2023 we'll be continuing this and, in the future, every new feature we release will come with public API endpoints that you can build on top of. This will provide more control and flexibility in integrating Vero into your stack, and make building custom functionality much easier. The API-first approach allows automation of marketing tasks, tracking of customer behavior, and integration with other tools. First access to the API will be available sometime this year.
Sharing our vision and plan
In order to keep you informed and up-to-date, we've created a public view of our roadmap. The tree-style roadmap provides a comprehensive overview of the features we plan to release and the order in which they will be developed. The tree shows the progress of migrating features to the new Vero interface and brand new features. 
We will update the roadmap at least quarterly. With the release of this roadmap we'll also be tidying up and providing more information via our feedback board. View the roadmap and revisit our changelog to see what we've released as the year progresses.
---
Have thoughts and opinions? We want to hear them! Love something we're building? Have suggestions on what we've missed? Let us know. Simply reply to this email or hop over to feedback.getvero.com to request a feature or to join the conversation.
---
Want to send more personalized mobile and email messages to your users?
Check out Vero, customer engagement software designed for product marketers. Message your users based on what they do (or don't do) in your product.
Learn more about Vero and consider signing up for a free trial. No credit card required.