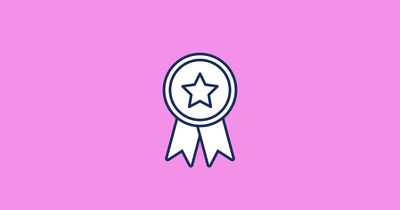 How to use reward emails to boost your rewards program
Everyone wants to feel appreciated and recognized, and your customers are no different. Loyalty programs encourage engagement and reward your most loyal fans, all while driving sales and boosting retention. 
While there are many moving parts to developing a rewards program, having a robust customer loyalty email strategy can go a long way. 
What reward emails can do for you
Reward emails are email messages that keep customers up to date with your loyalty program. An email loyalty program can help you:
Increase revenue by continually selling to existing customers. 46% of customers will increase their spending with a company because of a loyalty program. 
Retain customers through targeted engagements. 87% of consumers are open to sharing account activity data if it leads to more personalized rewards. 
Grow your audience, since three out of four consumers are more likely to recommend a brand with a good loyalty program. 
Reward emails are an essential but singular element of a loyalty program. There's a lot of planning and infrastructure work that has to happen for your loyalty program to get off the ground. However, if your company does have a rewards program, you can use emails to amplify the impact.
Within your loyalty program, reward emails are critical for:
Educating customers about the loyalty program
Welcoming them into the program and letting them know what comes next
Encouraging customers to take advantage of their rewards
Presenting new ways to earn points
Sharing exclusive offers and campaigns
Sending targeted campaigns based on account activity
Sounds interesting? Let's explore examples to inspire your own loyalty email campaigns.
8 loyalty program email examples to learn from
Loyalty program invitation
The first point in the customer loyalty lifecycle that you can leverage email for is gaining new community members. You'll likely have signup CTAs for your loyalty program throughout your marketing channels, website, and app.
But by sending a signup email to your existing customers, you can boost engagement by leveraging already established connections.
To introduce their loyalty program, Loeffler Randall offers an exclusive bonus for signing up. The email has a time-sensitive deal, and it also outlines what to expect afterwards. Intro emails are the perfect place to set expectations about earning and using reward points. 
Automate it
Your loyalty program welcome email will have the best chances of success with careful segmentation. Rather than blasting the email to everybody, begin sending the message to already engaged users or repeat customers. You could also dynamically update content to match each segment's interests or goals. 
Top tip – if you're looking for a welcome email that's easy to edit, check out our free welcome email HTML template. 
Welcome to the VIP program
Each new loyalty program member deserves a warm welcome! An email to initiate them into the group should reiterate the perks and what communication to expect. If a person signs up for the program via a descriptive email, you may modify the welcome message so that it isn't redundant.
However, welcome emails are perfect for people who register via your website or app.
For example, Taco Bell runs a rewards program through its app and sends a welcome email upon registration. It lists what you can do within the app to make ordering easier, and covers how to earn and redeem points. There's also an animation that says that Taco Bell will be sending emails and push notifications from now on. 

Automate it
Different loyalty program features or rewards may be more enticing for various customer segments. Therefore, A/B testing welcome emails across your list can help you nail down ideal positioning. You can also use triggered workflows to send different welcome emails depending on how a customer signed up. 
Exclusive offers
Part of the fun of having a loyalty program is offering exclusive offers and perks. Sending an email with a discount, or way to earn more points can encourage sales. 
Starbucks does this by issuing a challenge to reward members. They can earn additional points, but only if they purchase five Frappuccinos before a set date. Giving a specific task can drive sales or engagement with a particular product, and requiring multiple actions can help establish a new habit. 
Automate it
When you collaborate with other marketing or sales teams, you can use email as a driver for specific initiatives. You can create one-off campaigns to drive engagement with an item and target it at users who have shown interest in the past. 
Birthday and anniversary perks
Everyone has a birthday that you can send exclusive offers on. If you don't have a customer's birthday info on file, you can also use rewards emails on the anniversary of their first purchase with you. 
Birthday emails are fun and should have an enticing gift. For some companies, that's a discount or an exclusive item for sale. Subway, however, celebrates with a cookie. The email is direct (and who can resist the image of a giant cookie?), and tells customers how to redeem the offer. 
Automate it
Whether you choose to celebrate your customers' birthdate or the entire month, automated email sequences put the party on autopilot. If you don't collect birthday information, create an event when they make their first purchase, and then time the anniversary email for exactly a year later. 
Gamify and contest
Since your loyalty program has your biggest fans, you can use that audience to learn about customer preferences. Running contests creates user-generated content or pulls in feedback to help direct strategy. 
Postable used this tactic by having customers vote on their favorite holiday card for a chance to win $150 in free products. By getting customer feedback, the company can learn about what will likely sell best and create social proof around the "top-rated" card. 
Automate it
Contests and games improve engagement, so you can use them strategically to collaborate with user segments. For example, you can create contests when you want to learn more about a psychographic segment. Then, use campaign analytics and results to inform your other marketing strategies.  
Referral codes
We've previously written about referral emails, but it's a good idea to send referral codes to loyalty program members. You can update these referral emails to include exclusive referral codes or deals. Since these are your most-engaged customers, you want to make the program feel more premium. 
MeUndies offers a discount code for new customers and $20 cashback for the referrer. The company simply explains the reward and has a bold CTA button to act now. 
Automate it
Referral reward emails work best when you send them to customers who are engaged and likely to bring in quality leads. To automate referral emails, set up an event that notifies a high level of engagement, such as repeated purchases or frequent logins. 
Reminder to redeem
Sometimes customers need a little reminder, and emails are perfect for sending loyalty program nudges. Typing the data from your loyalty program into your email marketing with a tool like Liquid makes timely automations easy. 
Chipotle sends an email when customers earn a new reward and encourages them to log in to their account to see and redeem it. The email also prompts the customer to download their mobile app, making email marketing a driver for multi-channel engagement. 
Automate it
Reminder emails have to be linked to your loyalty program to send out on time. You can also set up triggers that send additional reminder emails if the reward goes unclaimed.
Re-engagement
If loyalty program members have gone quiet, consider sending a re-engagement or winback campaign. Remind users of the perks, or offer them an incentive to come back into the fold. 
At Home sent an email letting previous members know that the "perks just got perkier." While they didn't go into details in the email, there was a full breakdown of new incentives on the other side of the email. They also dynamically pulled in the recipient's preferred store as a reminder. 
Automate it
Dynamic content allows you to pull past items a customer has purchased, the content they've engaged with, or stores they've shopped at. Personalizing the re-engagement email is more likely to jog their memory and entice them back than a generic blast. 
Loyalty program best practices
Be flexible with rewards
If a rewards program is too rigid, it starts to lose its appeal. For example, imagine you have a go-to order at a restaurant that you choose frequently and earn points from. But then, you're only allowed to redeem the points on one very specific food item that you're not interested in. No fun!
You can have reward categories at certain levels like Starbucks does, but they should still be flexible. 
Create engagement tiers
Another popular loyalty program addition is engagement tiers. As customers spend and engage more, they move up the ranks of your program and receive new benefits. Gamifying this process gives excited customers something to strive for.
For example, each dollar spent equates to more points as a customer rises the ranks of Elf's "Beauty Squad."
Use triggered emails and messages to boost engagement
Every customer is unique, and you can use email automation to make your marketing feel custom-made. Segment users based on their level of activity, interests, and past purchases, and you can  bring in dynamic content.
When you use Liquid to connect your loyalty program to a marketing automation service like Vero, you can create triggers to send targeted emails at scale. 
Grow the program with affiliates or partners
If you want to expand the reach or impact of your loyalty program, consider partnering up. Having loyalty program affiliates or partners brings related brands together to offer unique and relevant rewards to customers.
For example, Wyndham Rewards partners with airline companies so that customers can redeem hotel points for airline miles.
Review programs in your industry
Loyalty program emails are a great way to increase the efficacy of your rewards program. However, you need a loyalty program before you can start sending these messages. If your company doesn't have a loyalty program yet, check out these industry-specific guides:
You and your email team can't carry the entire weight of the loyalty program on your shoulders, but you can give it a boost. With personalized, triggered emails, you can raise engagement within your rewards program. 
Want to learn more about how email can become your company's marketing hero? Check out our guide to retention marketing strategies that increase revenue.
How to automate your email marketing
Automated email marketing is a great way to build a series of customer messages that build loyalty, drive engagement and reward your most loyal customers. The foundation of a great email reward program is the marketing tool you use. Vero Cloud is a marketing automation tool that lets you automate emails based on customizable triggers, meaning you can send your customer's personalized emails that organically move them through the sales funnel. With a free HTML template library, it's really simple to customize and send loyalty and reward emails that drive sales and boost retention. 
---
Want to send more personalized mobile and email messages to your users?
Check out Vero, customer engagement software designed for product marketers. Message your users based on what they do (or don't do) in your product.
Learn more about Vero and consider signing up for a free trial. No credit card required.